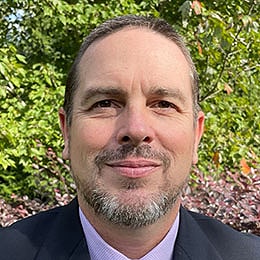 Christopher Casteel
Managing Director
I have been in the health care sector for more than 30 years. I've proudly served on active duty in the United States Air Force, have worked in acute care settings, and spent the last 20-plus years working with older adults. At Watermark, I've served in the role of managing director providing operational support to our communities for more than 12 years, and I look forward to many more.

My education in business administration and nursing, with licenses as health care administrator and registered nurse, have provided me with important experiences that have helped me support our communities. The Watermark philosophy has been ingrained in our culture of mutual active support, which is unlike any other. I find this a strong testament to the length of time so many of our associates have chosen to work at Watermark.

On the personal side of life, I've been married for more than 20 years and have three children and two dogs. As a family, we love to be outdoors — walking, playing tennis, and snow skiing. I also enjoy superbike riding through the nearby mountains, as well as an occasional motorcycle track day.