Annetta Webley CNA Naya Watermark Associate Extraordinaire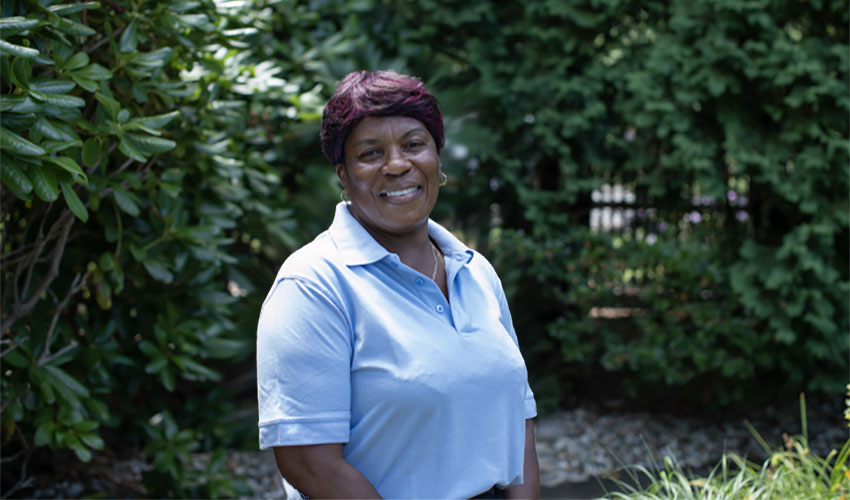 In a perfect intersection where marketing meets public relations is a shining example of a Watermark
Naya
who was featured in our national marketing campaign with a story so compelling that it garnered publicity in the local media — on National Caregivers Day in March.
Watermark associate Annetta Webley's love of singing and her innate ability to bring both joy and peace to her residents at East Village Place (East Longmeadow, MA) exemplifies the role of our Nayas. Annetta is one of our many CNA caregivers trained and certified through Watermark's partnership with the National Council of Certified Dementia. Naya is a Sanskrit word, which translates as guide or person of wisdom. At Watermark, a Naya plays a multifaceted role of incorporating residents into the rhythms of daily living while developing deep personal connections.
Annetta's gift of connecting with residents through song was poignant for the family of a memory care resident — a woman who had not communicated in years. The family told Annetta that when she sang to their mother, they could see the blessing of peace and comfort in their mom's expression. When Annetta's story was pitched to the local media, they featured her in a special broadcast segment for National Caregivers Month. Originally from Jamaica, Annetta is delighting residents with group singalongs that cover everything from gospel music to Bob Marley. Enjoy the full story of Watermark Naya Annetta here:
Annetta's Story
.