New Watermark Websites Win Kentico Site of the Year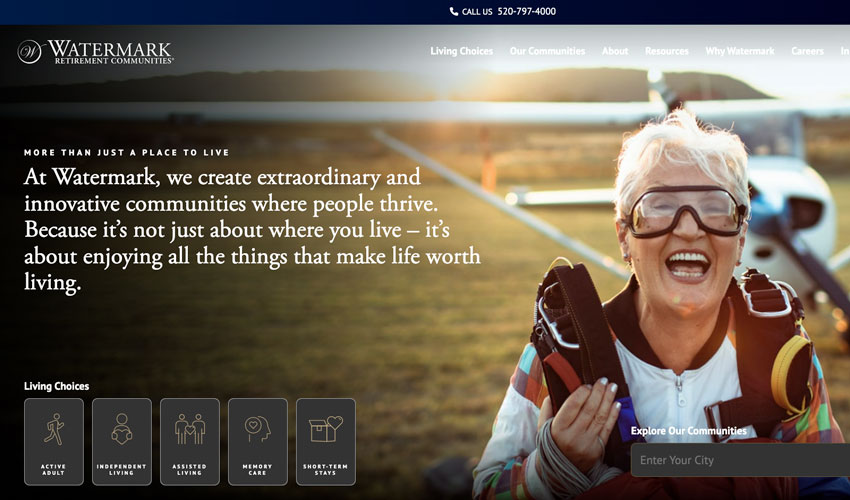 In January, Watermark launched 79 redesigned websites across all of our communities in a months-long, multi-faceted project to increase qualified leads by improving our customers' digital experience. The new design and navigation earned "Site of the Year 2022" in Healthcare from Kentico, a technology leader in web content management and the digital experience platform arena.
Our new websites are designed to attract potential residents by reflecting Watermark's culture and values with captivating images and compelling copy with a more modern look and feel. Visitors to the new websites will experience enhanced navigation and easily accessible information to facilitate their exploration of a community's amenities, programs, floor plans, and connections with the sales team.
On the back end, the new sites are powered by an updated, robust content management system (CMS) platform, enabling our website and copy teams to conduct more efficient multi-site management and content updates. Our sales and marketing teams continue to have access to critical customer information through integration with Salesforce.
Our digital team is evaluating and tracking visitor traffic, usage and conversions on the new websites, including click through rates (CTRs), click-to-call phone numbers, page/document views, and form completions/sign-ups to make continual improvements as needed.
See examples at:
Watermark Retirement Communities
;
The Watermark at Westwood Village
;
The Hacienda at Georgetown
;
The Watermark at Beverly Hills
;
The Watermark at Broadway Cityview
.