Judi Tavill detail of "Mingle"
OCTOBER 5, 2023-JANUARY 31, 2024
Ivy Brown and The Watermark at Brooklyn Heights Invite You to "Linear Alliances: Exploring Lines in Art" Exhibition by Elizabeth Gregory-Gruen and Judi Tavill.
The exhibition aims to inspire a deeper understanding and appreciation for the role of lines in art and encourages viewers to contemplate the artistic possibilities inherent in this fundamental element.
Elizabeth Gregory-Gruen's "Cut Work", is where she achieves perfection through the imperfection of building multiple freehand scalpel cut lines. These lines are layered inward, inviting viewers to peer into the complexity of the human condition. Gregory-Gruen's art invites viewers to contemplate and reflect on the intricate nature of the human experience, offering a visually captivating exploration of our collective psyche during this challenging era. Her use of free-flowing cutting, luminous colors, and layered lines opens up a world of emotions and introspection for the audience to engage with.
Judi Tavill specializes in biomorphic abstraction, combining sculpture with drawing to explore the intricate experience of connection and entanglement. In her artistic process, she reflects on connection of her hands with the clay, building gestural forms that join or link together through coiling. Once fired, she paints the clay and then incorporates graphite drawing, allowing the lines to twist, layer, or separate along the surface, creating depth. Tavill is inspired by the "The Tree System", the human body, and the interactions between individuals and the earth. These subjects astound one with their intricate complexities. While chaos may arise from these connections, you find hope in the opportunity to resolve confusion and strive towards harmony.
"Linear Alliances" presents a juxtaposition of Elizabeth Gregory-Gruen's expressive and dynamic lines with Judi Tavill's precise and minimalist approach. Together, their artwork creates a dialogue that invites viewers to explore the myriad possibilities and interpretations of lines in art. From the energetic and emotive to the serene and contemplative, this exhibition celebrates the power and versatility of lines as a fundamental element in artistic expression.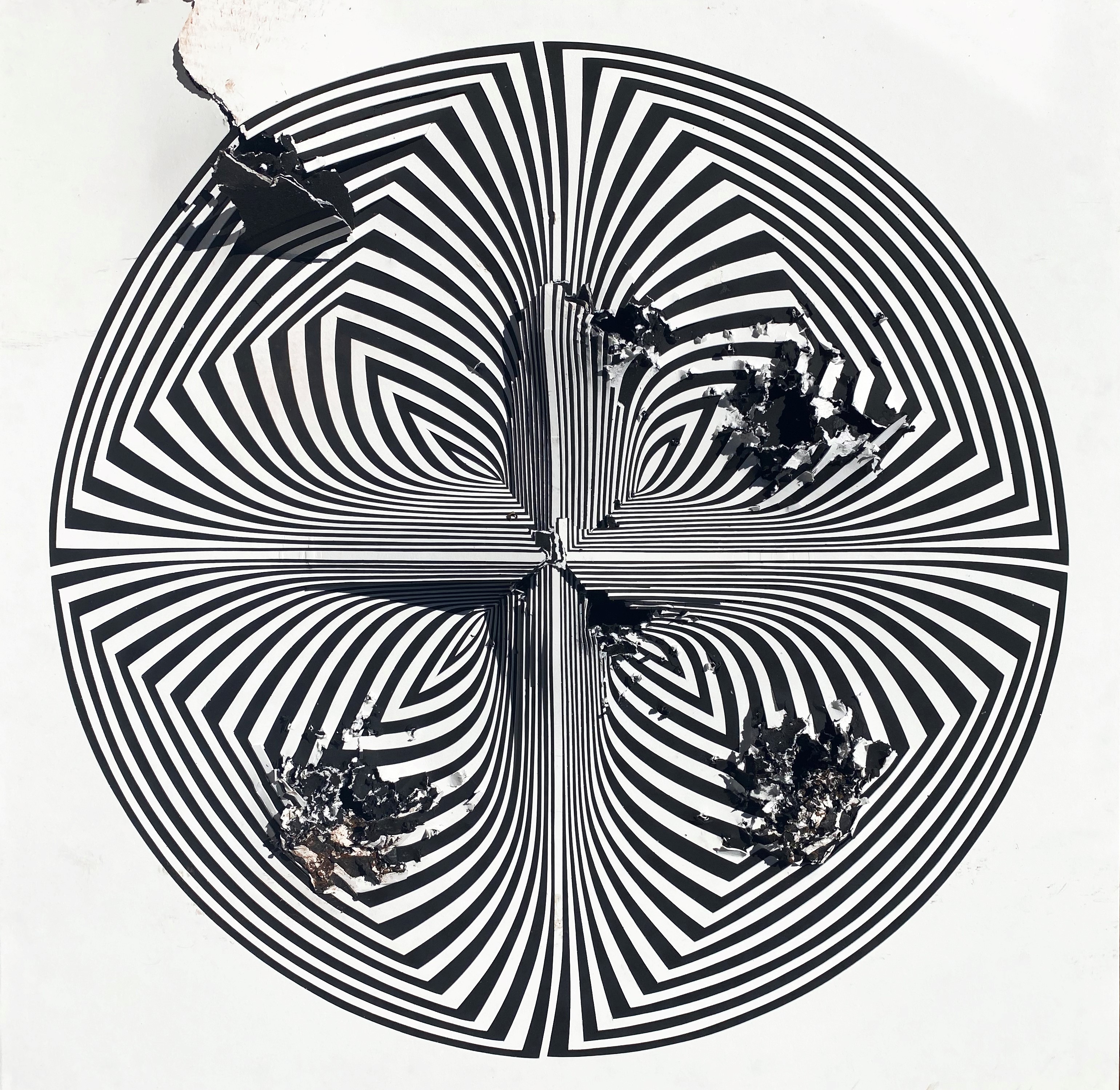 Elizabeth Gregory-Gruen detail of "Black and White Gunshot"
Reserve your ticket
October 5, 2023-January 31, 2024
The Watermark at Brooklyn Heights, Art Gallery
21 Clark Street, Brooklyn, NY 11201
The Watermark at Brooklyn Heights
Not just living, thriving.
The Watermark at Brooklyn Heights provides an exceptional setting for seniors who want an exceptional lifestyle.
Learn More

Ivy Brown
Supporting emerging and established artists.
Ivy Brown is a veteran gallery owner in New York City and a leading creative curator, she chairs an association of women art dealers, and sits on the board of the Meatpacking District in NYC. She has been in business since 2001.
Learn More