OPTIMAL WELL-BEING THROUGH FITNESS
Your customized fitness routine
is ready when you are.
A life focused on wellness, personal care, and a consistent workout regimen is just what we all need to stay well and fit. No gym history necessary. A personalized fitness routine helps you avoid muscle and bone loss, stave off sickness, fatigue, and a host of other preventable health issues. Work at your own pace, and we'll be with you every step of the way along your wellness journey.
Join us in our exclusive fitness center, and our wellness experts are ready to help you achieve your fitness goals. Begin with the weight machines, and then try a stationary bike, elliptical, or a steady walk on a treadmill. Your muscles need constant stimulation. Get your legs moving and your heart pumping – you'll see results and feel your best in no time.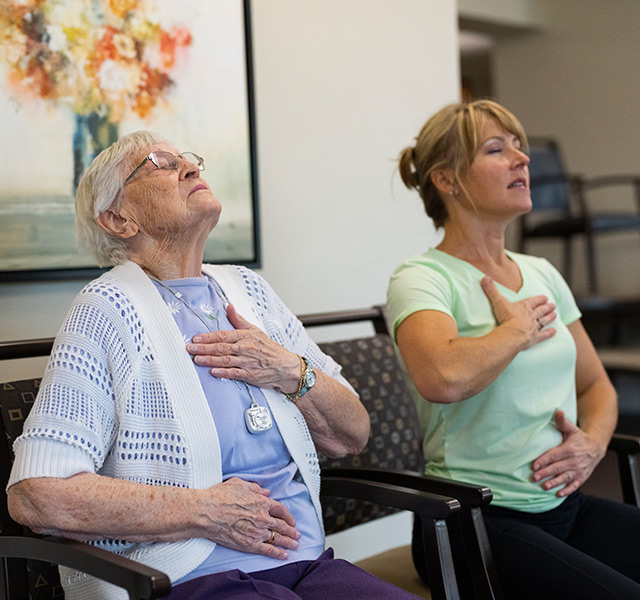 Fitness Center
Go at your own pace – no pressure. Our fitness center offers something for each resident. Take advantage of personal training sessions, and create your personalized fitness plan to help you maintain your current state of wellness, reach new fitness goals, or improve your range of motion and strength. You can even use wearable fitness trackers to help you chart your progress.
Whether you're interested in group classes like yoga and tai chi, personal training, or working out on your own, our programs are tailored to your unique needs. We've got you covered with cardio machines to get your heart pumping and weight machines to help you stay stronger for longer.
Optimal fitness, wellness, and well-being are all connected. Let us help show you how.