ASA Staying active and socially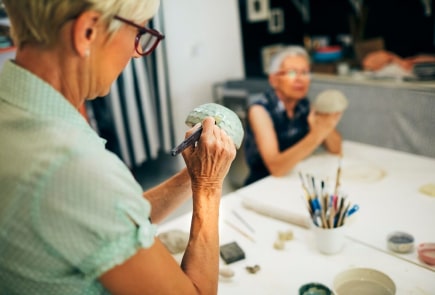 Staying active and socially engaged are both essential to health and well-being. One easy way to do both is by taking part in our Extraordinary Outings program at The Watermark at Westwood Village.
It nourishes the soul and feeds the brain with a host of exciting excursions to local and nearby destinations.
Educational and recreational outings
These fun-filled field trips invite residents to embark on educational and recreational outings to arts and cultural sites, concerts, trendy restaurants, and more. Whether it's a visit to the Santa Monica Pier, shopping on stylish Abbott Kinney Boulevard, or strolling the Esplanade in Venice Beach, the possibilities are endless. Perhaps, it's taking a ride along the Malibu Coast to visit the original Getty Museum on the iconic Pacific Coast Highway, or stopping for sushi at Nobu, or exploring Santa Barbara or Ojai.
The Watermark at Westwood Village's location in culturally rich Los Angeles lends itself to a variety of organized excursions. Exploring LA's renowned foodie culture is just one example. Visiting nearby wine country is another.
Research shows that enriching activities, such as our Extraordinary Outings, provide a sense of meaning and purpose. They're also a way to build and maintain close relationships by experiencing these special day trips or overnight journeys together.
For many seniors, now is the perfect time to enjoy all the activities they didn't have time for before retirement. In addition to the fun and excitement of experiencing new places and activities, there is also the added physical, spiritual, and emotional health benefits that come with embracing adventure and exploration.