The Watermark at Houston Heights Brings Wellness Full Circle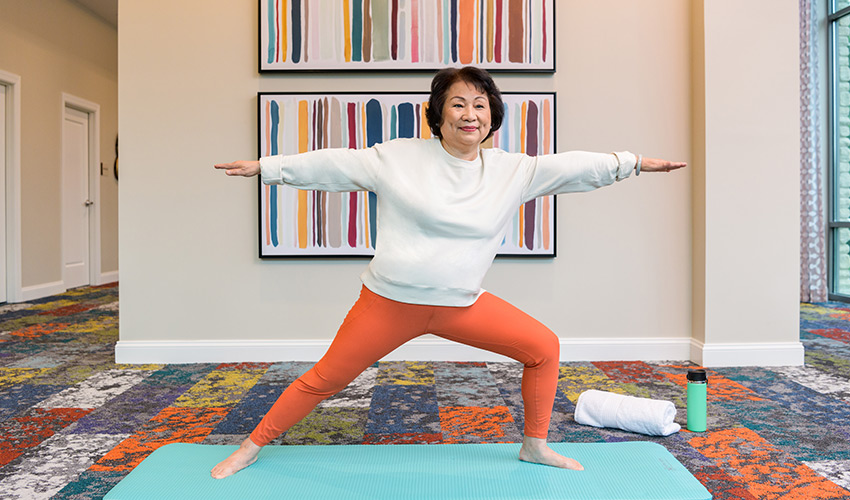 Although wellness means different things to different people, it has evolved to encompass the physical, mental, social, and spiritual aspects of our lives. Essentially, wellness is a continuous journey in which each of these dimensions intersect. When one grows stronger, the others benefit, as well.

That's the idea behind our unique wellness concept at The Watermark at Houston Heights. It's a holistic approach that informs everything we do, from the nurturing care we offer to our lavish amenities and beyond. Each of our offerings add to an environment in which wellness is not merely a priority, but also a way of life.

Physical fitness plays a key role in living a healthy and active live. Featuring state-of-the-art workout equipment, our Vitality Fitness Center offers something for everyone. Whether you enjoy working out in a group setting with a fun class set to music or prefer to be guided by an expert personal trainer who can design a program to help you meet your fitness goals, you'll find the motivation you need to stay active and fit.

Because mental wellness is finally getting its due, you'll find plenty of options to nourish your mind, as well. From mindful workouts, such as yoga and Tai Chi, to enriching classes at our award-winning Watermark University to our innovative EngageVR program, our holistic approach provides a variety of ways to engage the mind and boost mental wellness.

The social connections we make also have a great impact on our mental well-being, which is why we offer so many opportunities to interact and bond with the staff and other residents. Our community areas, such as dining venues, outdoor heated pool, and more, provide the perfect places to connect with others, creating lasting friendships that sustain us.

One of the most neglected dimensions of wellness is spirituality. Here, it's given equal consideration with guided meditations, contemplative pursuits, immersive nature activities, and more. Spiritual wellness is important to our overall well-being because it strengthens our relationships with others, it grounds us during periods of uncertainty, it helps us overcome challenges, and it provides us with a sense of purpose.

Our holistic approach encourages residents to take advantage of our integrative wellness options to achieve well-being that goes beyond the body. It's a full-circle philosophy for wellness.