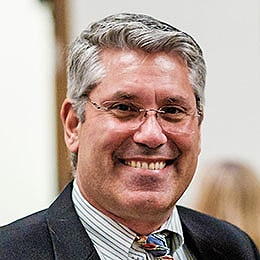 Jack Herklotz
Director of Information Technology
I've spent more than two decades in information technology (IT), and every day I love the fact that what I do connects people to information and to each other. I started working with Watermark Retirement Communities in 2010 as IT director, and I appreciate the unique challenges of serving those who live and work in the communities. My passion is to help people understand technology in a way that makes it useful in their lives.

I earned my Bachelor of Science in electrical engineering from Kettering University (formerly General Motors Institute) and a Master of Arts in management. My degrees have led me to an increased, and ongoing, curiosity for discovering new technologies and seeing how they can benefit everyone at Watermark Retirement Communities. I am particularly proud of our Engage – Powered by Google initiative, which brings residents and technology together in a way that is beneficial and meaningful for everyone.

In my free time, I love to travel with my family, whether it is cruising, camping, or otherwise. I am also an amateur craft brewer and an avid University of Arizona basketball and football fan.