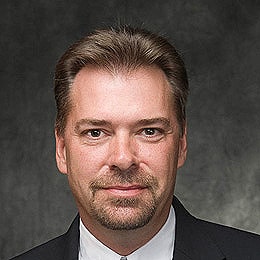 Mike Burkhart
Director of Employment Practices
My profession serves my passion of bringing exceptional people to work in health care and senior living environments. Prior to joining The Fountains Retirement Communities, I served as a regional human resource director for both Horizon/CMS Healthcare and Integrated Healthcare in Dallas. I came to The Fountains, now Watermark Retirement Communities, in October 1998 as the human resources director.

I can truly say that I have enjoyed my entire career with Watermark. The professional environment has given me opportunities to learn, which enabled my career to flourish and better serve the associates and residents in our communities. In addition to providing human resource management direction for Watermark, my responsibilities include serving as chief compliance officer, director of risk management, and director of diversity. I also provide oversight of recruiting, associate benefits, and payroll services.

When I'm not working, I enjoy a beautiful Arizona day out on the golf course or the soccer fields with my kids. I look forward to many more opportunities to help chart the direction of care for seniors as we continue our innovative approach to senior hospitality and wellness. Watermark is poised to serve as the leader of lifelong learning for seniors and our valued associates, and I'm excited to be part of that future.