STRONG SHOULDERS TO STAND ON
Paving the way for generations to come, LGBTQ+ older adults share their stories of hope, humanity, and resilience.
For LGBTQ+ seniors, many have lived a good portion of their lives in the shadows, afraid to come out as their authentic selves due to threats of social stigmatization and much worse. Forced to hide parts of themselves, they have lost several years leading double lives, unable to live their truth and openly love whomever they choose.
Not Another Second, an interactive national cultural awareness exhibition, tells the stories of 12 LGBTQ+ seniors and explores the years they lost due to societal constraints. The poignant project celebrates their powerful stories, and acknowledges their sacrifices and contributions. Despite the challenges they've faced, they graciously share their experiences and words of wisdom with younger generations.
The courageous pioneers featured in this project stood up, pushed back, and refused to be treated as social outcasts. They're presented through a series of stunning, large-scale portraits interspersed with video stories and a short documentary. Each moving portrait, captured by noted German photographer Karsten Thormaehlen, is accompanied by the number of years lost when they couldn't live as their authentic selves.
Watermark developed the project in collaboration with SAGE, the country's largest and oldest nonprofit organization dedicated to improving the lives of LGBTQ+ older adults. From harassment and social isolation, to discrimination in health care and senior housing, the project also highlights important statistics and facts to illustrate the challenges still faced by approximately 3 million LGBTQ+ older adults in the United States.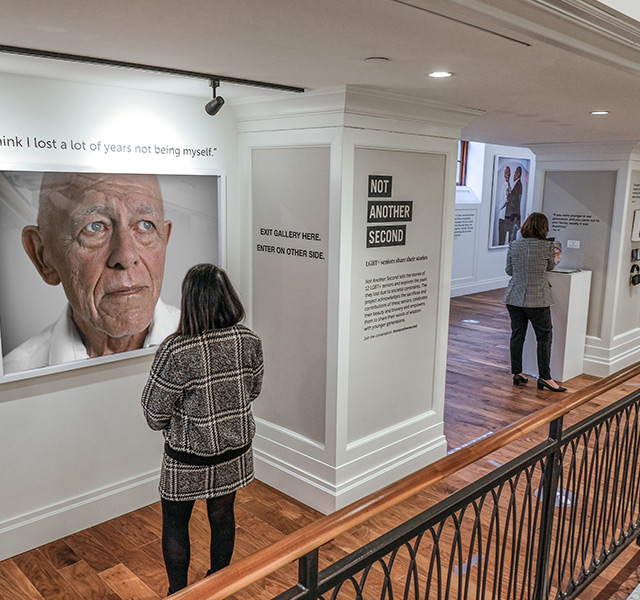 Exhibition on Tour: From New York to Los Angeles
The Not Another Second exhibition premiered in January 2021 at The Watermark at Brooklyn Heights, in New York. With state-of-the-art augmented reality (AR) technology, visitors experience candid, one-on-one interviews with the 12 LGBTQ+ seniors who were part of the generation that led the Stonewall rebellion, founded political group ACT UP (AIDS Coalition to Unleash Power), and helped end the U.S. military policy commonly referred to as "don't ask, don't tell."
For its next stop, the exhibition is scheduled to open at The Watermark at Westwood Village, in Los Angeles, beginning in January 2023. Following its Westwood Village showing, the exhibition will tour the country throughout 2023.
Learn More and Watch Their Stories

Not Another Second is a project by SAGE and Watermark Retirement Communities.