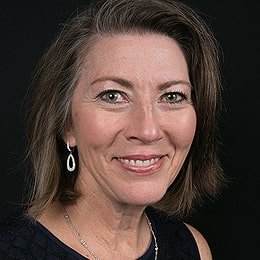 Karen Mlawsky
Chief Operating Officer
I began my career in hospital administration more than 25 years ago. After serving as executive director at The Ohio State University Medical Center, I returned to Tucson and joined the University Medical Center to lead the oncology services. Following that, I was CEO of the hospital division for the University of Arizona Health Network. Before joining Watermark Retirement Communities, I was chief operating officer of TMC, Tucson's 650-bed community teaching hospital.

A backbone of the senior living industry is providing quality health care to the community residents. Many of these health care needs can be proactively supported through the design, programming, and operations of senior living environments. Watermark does this beautifully. I believe that we are on the leading edge of a shift that will deliver cost-effective, high-quality health care in senior living settings, and support more fulfilling, joyful lives as we age.

For a company, accomplishing this complex goal requires not just a shared vision but daily operational values that encourage and reward innovation and creativity from each associate. It is my honor to promote a Watermark culture that supports all its associates as we create environments where residents thrive.