We Had Sew Much Fun During "Sewing With Sterling!"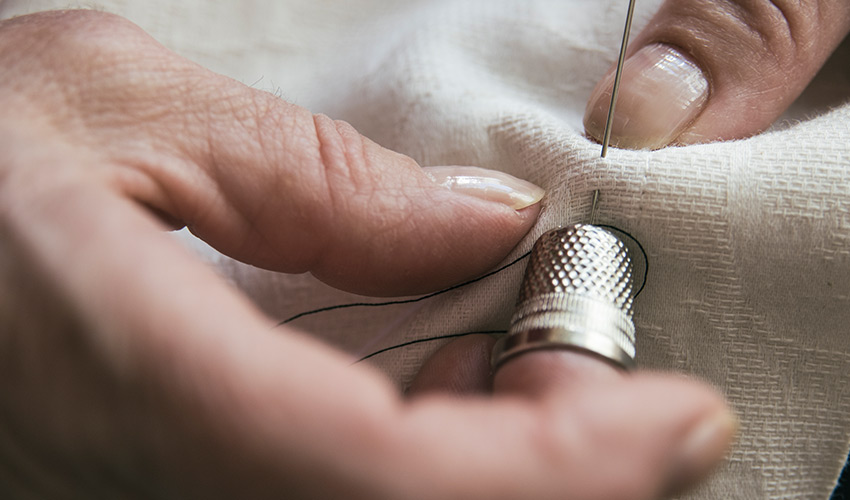 One of our new Watermark University classes, "
Sewing with Sterling
" proved to be a big hit! Community Life Assistant, Sterling, was excited to share her passion for sewing with the residents as they gathered to create aromatherapy neck wraps, which are wonderful for relieving stress and tension in the shoulders and neck. The wraps are also great for helping the wearer to relax, as one of the main essential oils used is lavender.
By heating the wrap in the microwave for 30 to 60 seconds, the essential oils become more aromatic while the warmth of the wrap helps to soothe aches and pains! Class participants chose their color fabric, and curiously watched as Sterling stitched the edges to create a tube-like pouch. We then poured uncooked rice into a large mixing bowl and residents stirred in four essential oils that are intended to have therapeutic effects. It is important to note that when making the neck wraps, one must use uncooked rice; using "minute" rice will cause problems when you microwave your heating wrap as the rice will cook inside of the fabric. The essential oils utilized in the aromatherapy wraps included lavender, rosemary, eucalyptus, and bergamot. We know that lavender is popular for its relaxation effects, but what about the others? Rosemary oil is a familiar scent which is known to reduce tension, stress, and fatigue. Eucalyptus oil is known for its anti-inflammatory properties, but it also serves as a natural decongestant due to it's refreshing aroma. Diana adds a few drops to a cotton ball and has been giving them to residents suffering from common colds, and the feedback has been that the oil has miraculously helped to clear their sinuses! Last but not least, we used bergamot oil in the aromatherapy wraps. Bergamot is an invigorating citrus-like fragrance that naturally elevates one's mood in addition to helping relax the mind, relieve stress, and even ease muscle fatigue.
Once we added this all-star lineup of essential oils to our rice, we were ready to fill our fabric! Residents took turns pouring the scented rice into their wraps before having Sterling add a final row of stitching to seal the rice inside. As we watched Sterling whiz through the wraps on her sewing machine, we reminisced handiwork projects that the residents have made throughout their lives. One of our residents, Bea, briefly left the class to retrieve two hand-sewn pillows from her apartment to show off to the class! After all of the sewing was complete, class participants modeled their new neck wraps for a group photo with the Sewing Master/Seamstress Extraordinaire, Sterling!
If you would like to make this craft at home, step-by-step instructions can be found
here
. We look forward to Sterling's next installment of her Watermark University sewing class… thank you
sew much
for sharing your expertise, Sterling!