"Living And Growing With Grief" - by Paul H. Wilson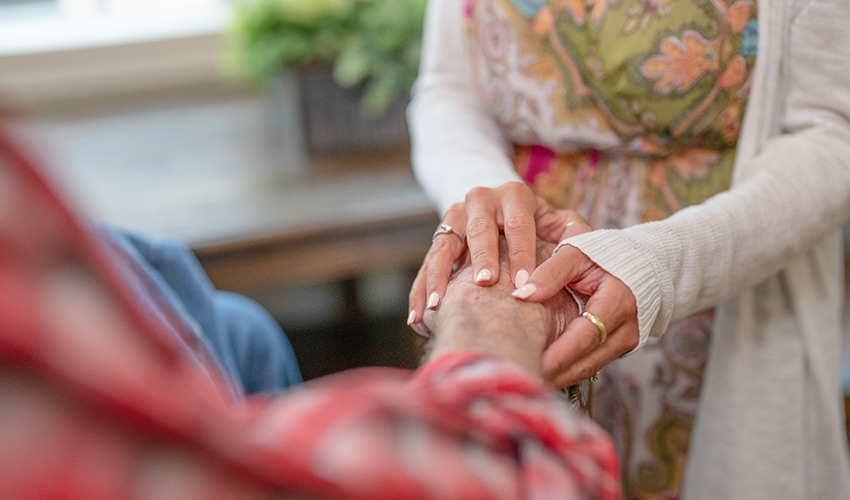 Grief and loss are inevitable and how you cope is unique to you and your circumstances. Watermark resident Paul H. Wilson shares heartfelt examples of love and loss in this essay leading up to his upcoming Watermark University course on grief. Watermark communities nationwide offer classes taught by residents, associates, family members and local experts furthering continued engagement and growth.

LIVING AND GROWING WITH GRIEF By Paul H. Wilson, resident of The Fountains at Greenbriar, a Watermark community My eldest daughter Erin came running up with tears falling down her sweet little face. "Daddy, come quickly! My goldfish Sara is lying on the bottom of her home and is not moving. Do something!" So began one of our first lessons in life, death and grief in our home, a lesson that was to be repeated many times over as cats, dogs, turtles, parakeets, various fresh and sea water fish and even snakes came and went as beloved pets and family members. Always the living with unconditional love. The deaths came unexpectedly at times or slowly with others, but always brought grief and loss. With each loss and the resulting grief, the lessons learned from past grief provided a foundation and tools with which my daughters each found old and new coping skills to deal with each loss. Each loss hurt, but it didn't destroy their world and more and more they remembered foremost the love they had shared with those they had lost.

These lessons learned with pets and the pets of friends become extremely valuable when the time came that they lost a grandparent. Unlike a fish, Grandpa or Grandma could not be replaced. And Dad and Mom did not so quickly try to move the conversation to what they would like to replace their lost pet friend. It was a new kind of grief. The real world quickly seemed to move in and there seemed to be many other losses. There have been home moves with loss of friends and schools. Friends seemed to come and go, and there always seemed to be tears of loss mixed with the smiles and grins of joy. Grief was a part of life now. In the quiet of night, they could still remember that first fish or turtle or Grandpa Joe or their old school and find their eyes wet with tears of loss and grief. What is grief? Grief is nature's way of healing a broken heart. One must have loved to have a broken heart. It is a choice we make when we choose to open up our heart to the joy and happiness of love. The more we open our heart, the more we love and received love into our heart until we thought it would burst. There were no words for that love. Our grief will match that love. It will not happen instantly. We will grow into healing from grief even as we grew into love. There are no clear-cut stages of grief. Many books and authors will tell you that it can be simplified down into four stages: shock, reality, reaction and reconstruction.

At some point, everyone will experience these feelings in their own way and on their own schedule, and it will last until it's over. There are no set time frames. Longer or shorter doesn't mean you loved the person any more or less. There's no shortage of people who will tell you how you are supposed to do your grieving. Find and become friends with those who walk with you as you do your living and loving. There is no "right" way to grieve, but there are many traps and many ways we can become consumed by it and forget to live and love. For those of you in the Kansas City, Mo., area, I will be facilitating a class this fall titled "Grief: Living and Loving to Wholeness" at The Fountains at Greenbriar in Independence, Mo. Each person won't be expected to share their individual story or grief story, but we will dig deep as individuals give themselves permission to grieve in their own journey and then look beyond and see what the love that brought them to grief now urges them to live.

If this is a class or group you would find helpful, make a request to your Community Life Director. I have found them to be very receptive to ideas and willing to help facilitate. I would gladly work with you and your community to help make this happen. Grief isn't the end. It's a step along the pathway that we can visit whenever we feel necessary, but we need not live there. We are called to live in the love that first called us to a new life of joy and wholeness. Together, in community, we can find that peace. Paul H. Wilson is a resident of The Fountains at Greenbriar, a Watermark community, located in Independence, Missouri.