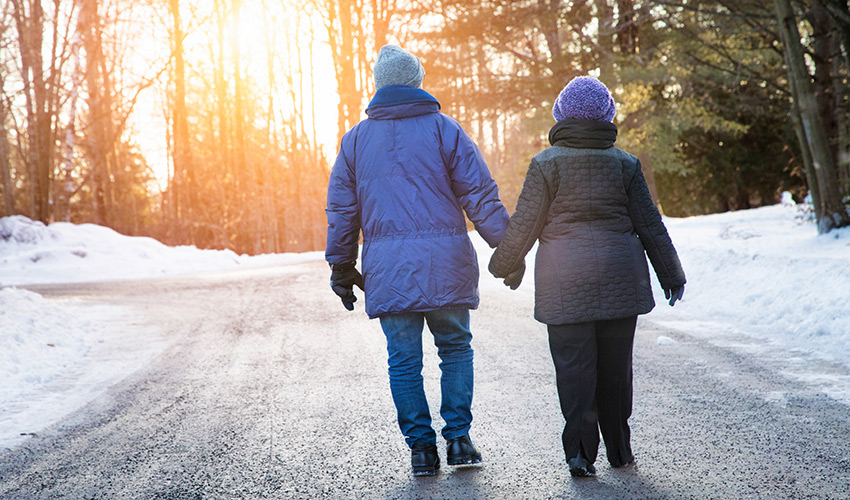 We want everyone to be safe during this cold weather season. As part of Watermark Retirement Communities, we'd like to help you thrive by sharing a few cold weather safety tips. This article from Watermark and the National Institute on Aging offers useful information and advice to help you and your loved ones stay warm and healthy this winter.
Cold Weather Safety Tips for Older Adults
Watermark wants you to stay safe and healthy this winter. Recent snowstorms and plunging temperatures have highlighted the importance of cold weather safety for older adults. People become more vulnerable to cold weather as they age. Hypothermia is a dangerous condition that can occur when the body temperature gets too low. Symptoms include cold feet and hands, slurred speech, sleepiness and shivering. Without prompt treatment, the condition can cause loss of consciousness, organ damage or worse. While our residents stay warm and cozy, we know that not everyone has the advantage of residing in a supportive retirement community. That's why we're sharing these cold weather safety tips from Watermark and the National Institute on Aging:
Keep your thermostat set above 68 degrees in the winter. Wear warm clothes including thick socks and slippers. Wear warm pajamas to bed and use an extra blanket.
Block cold drafts with heavy draperies over the windows and rolled towels at the bottoms of doors. Use weatherstripping or caulk to seal air leaks around windows and doors.
Avoid or limit alcohol. It can make you lose heat faster and reduce your awareness of the cold.
If your power goes out or you can't keep your house warm, try to find another place to stay. Watermark respite stays are ideal for individuals who need a safe place to go during a weather emergency or power outage.
Be cautious when using space heaters. Some can cause fires or emit carbon monoxide.
If you have to go outside, bundle up and don't stay out longer than necessary.
Older people who live alone should have someone check on them every day, especially if they have chronic health problems or memory issues.
If you or someone you know has symptoms of hypothermia, call 911.
Watermark is nationally recognized for its weather preparedness program. Every Watermark community has access to a national leadership team as well as an 888 number for quick service in the event of a power outage. Our community leaders have the strength and knowledge to guide their communities through situations ranging from extreme cold and blizzards to hurricanes and regional power outages. Our resilient residents have weathered all sorts of storms in their lives. Now they can face adverse weather with confidence in our warm, safe and well-prepared communities. For more cold weather safety tips from NIA, click
here
.