A vision rooted in empathy and love
This is the place where your family becomes our family.
Watching someone you care about experience memory changes can trigger a flood of emotions, from grief to guilt and everything in between. But you're not alone. Where care transcends expectations, Watermark's signature Prema Memory Support program integrates each individual into the rhythms of daily living — creating mindful moments of connection, discovery, engagement, and growth that inspire longevity and well-being.
We challenge traditional assumptions about what is possible, with a sharp focus on what residents can do. Each resident brings a unique life experience that becomes part of the fabric of the community. Compassionate, thoughtful associates pour their hearts and souls into creating meaningful ways for each resident to branch out and live life to the fullest.
Through our partnership with the National Council of Certified Dementia Practitioners, these thoughtful caregivers provide personalized care and one-on-one support 24/7 in a nurturing, warm setting where expert care is rooted in empathy, patience, and understanding.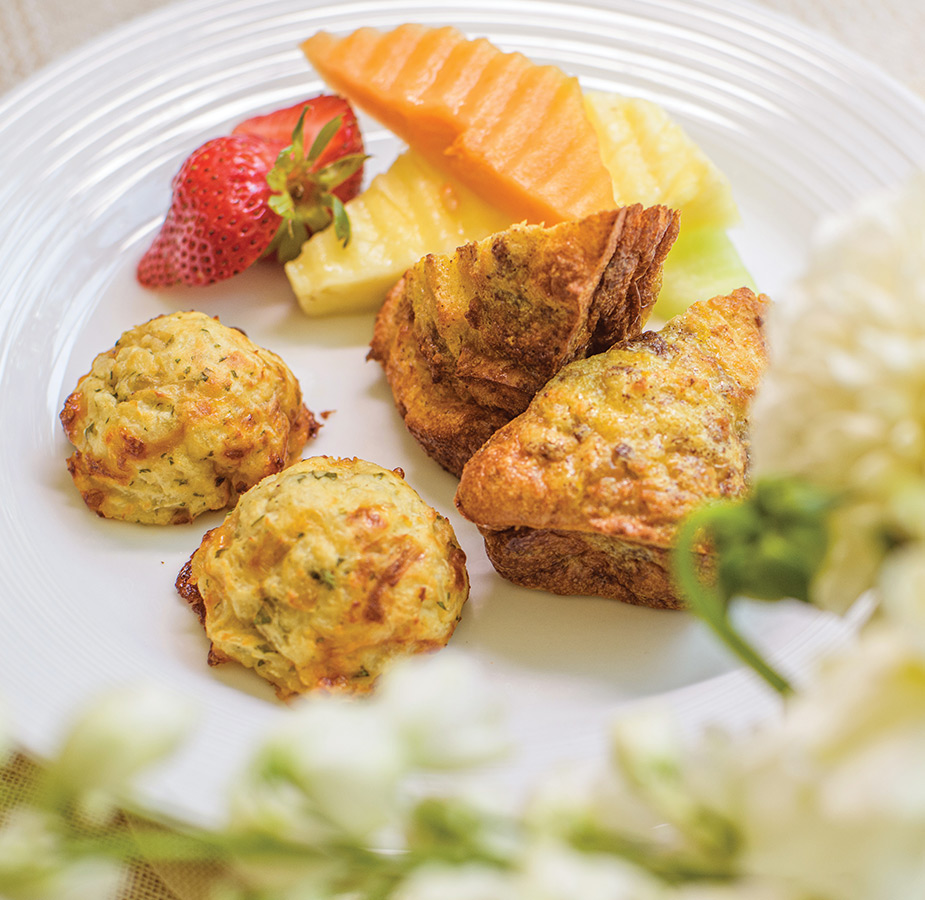 Memory Care
Gourmet Bites Cuisine
This groundbreaking Signature Program enhances independence and restores the joys of dining for individuals living with cognitive or physical challenges. Expert chefs transform freshly prepared, high-quality menu items into delicious and nutritious meals featuring easily handled bite-size portions. No assistance, no distractions, no utensils — no problem.
Learn More
Memory Care
Pantry Program
To help fill each day with the warmth and the comfort of home, the Pantry Program provides residents with their own personal space to store favorite foods or personal mementos and other treasures. The flavors and favorite items that provide comfort and joy are always close at hand. Each resident can count on finding their mint Milano cookies, tomato bisque and saltine crackers, or ginger pear tea and dried apricots, just to name a few. Families and friends also keep their loved one's pantry stocked with photographs and photo albums, books, games, music, puzzles, scrapbooks, and more. These items can spark meaningful conversations and opportunities to rekindle memories during visits with loved ones.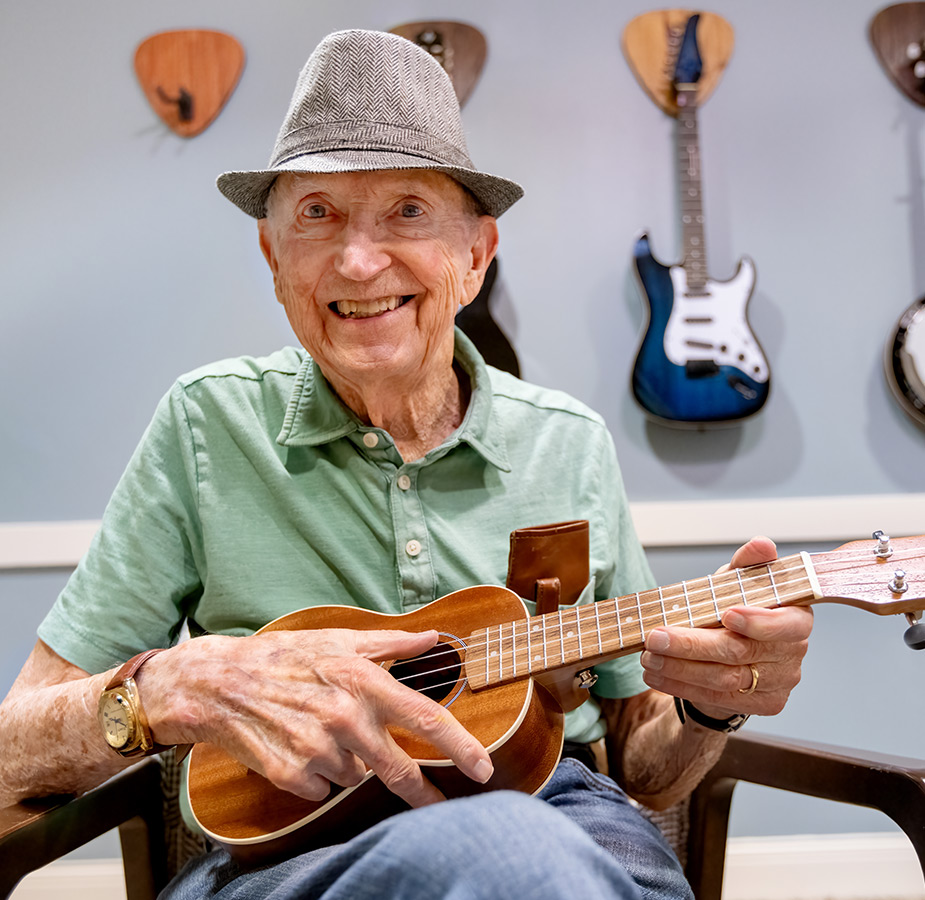 Memory Care
Thriving Through Music
Music has the power to move us, to make us feel, to help us heal. It touches people in so many ways. Listening to favorite songs can release powerful endorphins that lift the spirit, relieve stress and anxiety, and bring back happy memories. A favorite song can take us back to the first dance at our wedding, memories of singing in the church choir, or feelings of freedom as we drove around with the windows down and our favorite tunes playing on the radio. We often associate certain songs with major milestones or events — these songs create the soundtrack of our lives. Thriving Through Music empowers residents to connect with others and engage in the present moment. Whether it's a relaxing moment of reflection, an energizing experience, or an impromptu singalong that elicits joy, residents can listen to the music of their choice whenever they want via their personalized playlist. In addition to fun and recreation, the playlists also offer therapeutic benefits for the mind, body, and spirit.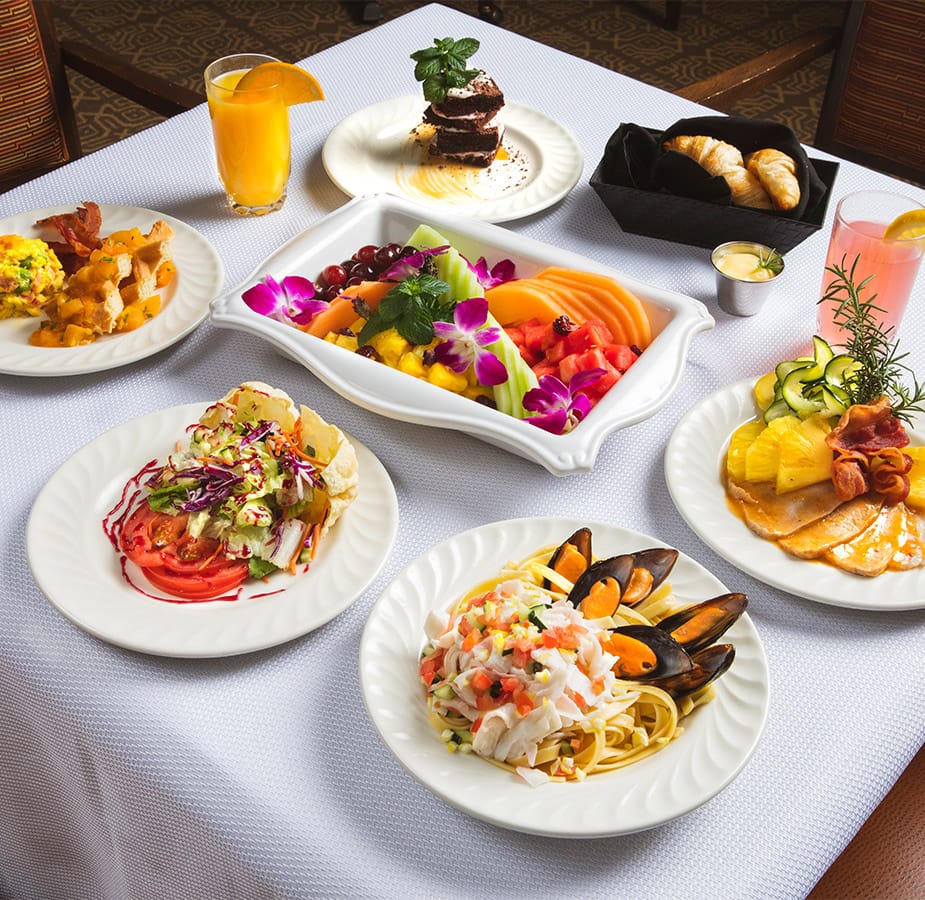 Memory Care
Healing Kitchens With Rebecca Katz
We understand the powerful impact healthy eating can have on the healing and the aging process. Our menus concentrate on fresh, nourishing, flavorful ingredients, and, whenever possible, we cook with fruits, vegetables, and herbs grown in our own community gardens. Recipes created by nationally recognized culinary translator and expert Rebecca Katz are featured at multiple Watermark communities.
Memory Care
Certified Dementia Program
Memory Care associates participate in additional education and specialized training to become a Certified Dementia Practitioner (CDP). Created by the National Council of Certified Dementia Practitioners, the widely respected certification recognizes that the highest standard in Alzheimer's disease and dementia education has been achieved. Associates learn cutting-edge approaches and develop skills that empower them to provide the compassionate care you and your loved ones can count on.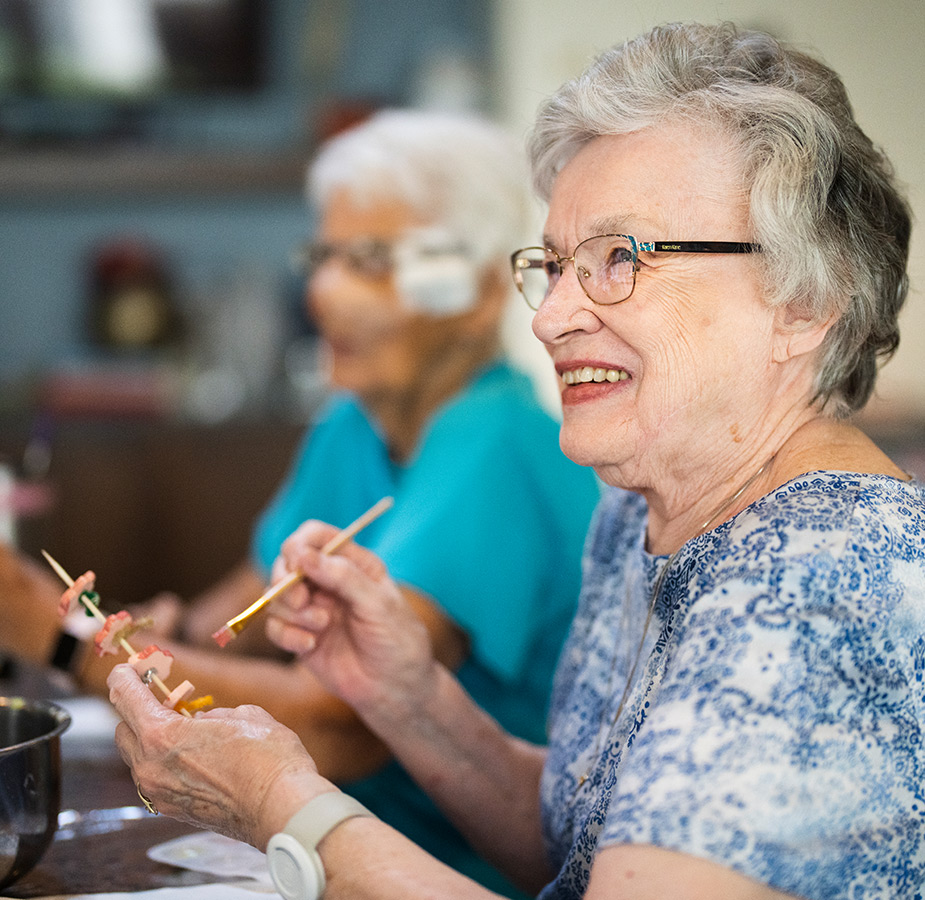 Memory Care
Dementia Awareness Experience
Have you ever wondered what it's like to live with memory changes? Through the Dementia Awareness Experience, associates gain a deeper understanding of the myriad challenges our residents face each day. The virtual training program simulates common impairments associated with various types of dementia. Everyday tasks can be as routine as filling a glass with water from a pitcher, but with the added challenge of wearing gloves that impair dexterity and glasses that mimic vision loss. Taking a "walk in their shoes" helps inspire empathy and understanding.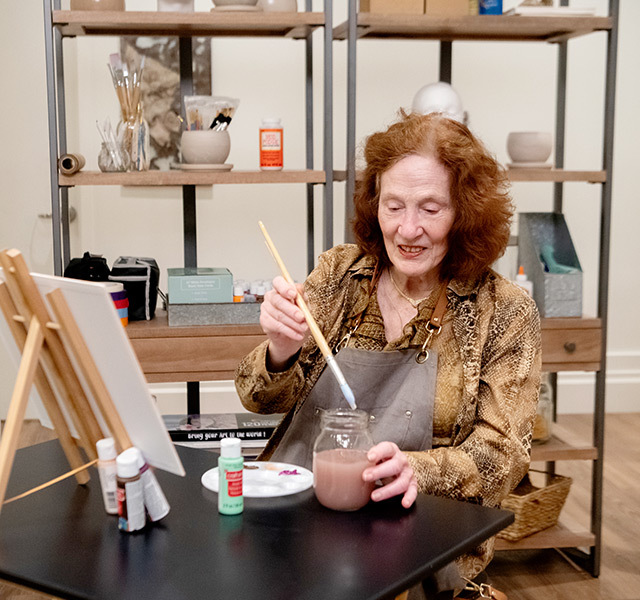 Expressive Arts
We use music, art, and movement to tap into all forms of creativity for an alternative form of communication beyond words.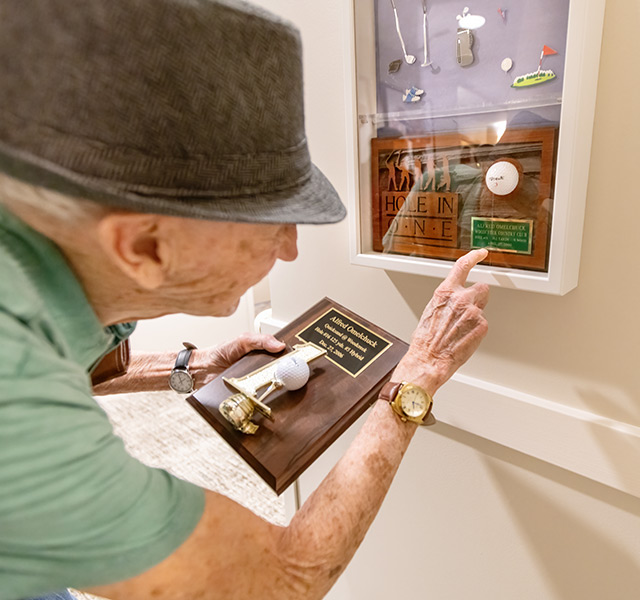 Life Histories
Every resident brings a unique life experience to our community. We incorporate past occupations, preferred hobbies, and treasured talents to create opportunities for meaningful connections, along with feelings of true accomplishment, purpose, and joy.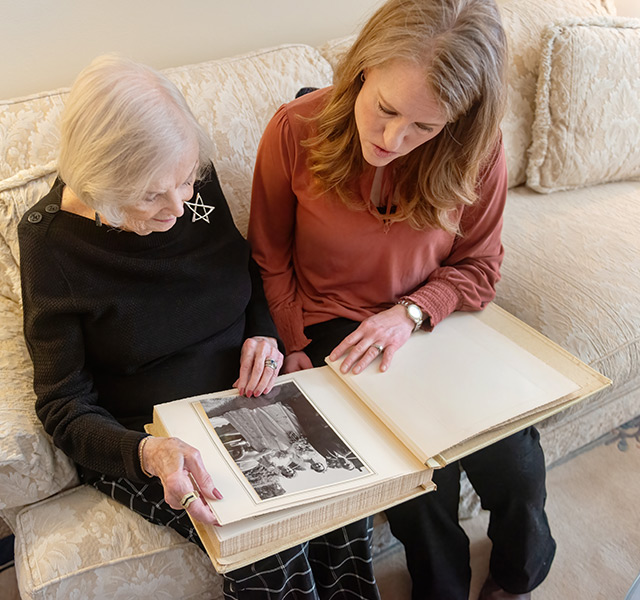 "Like Home" Environments
Our Memory Care communities are comfortable, familiar, and nurturing. Residents are surrounded by all the things they look forward to and enjoy, and we help them fill the days with favorite pastimes and create meaningful moments.