Lead an Engaged and Vibrant Life
Nurture your body, mind, and spirit.
Maybe it's re-centering yourself in Yoga or building some strength in Chair Aerobics. Perhaps it's picking up a paintbrush in Oil Painting or learning a new language with Spanish 101. Whatever you want to do, our team of experts can help you find the perfect program.
Connect and engage with exciting programs and services designed to strengthen your mind.
Learn new skills, explore holistic practices, embark on one of our Extraordinary Outings, or reconnect with a former hobby. Whatever you are looking for, you'll find plenty of exciting and interesting options available.
Keep physically active with scheduled classes and programs.
Discover how mobility can improve your body, mind, and spirit. Enjoy scheduled classes and physical therapy sessions. We've got a wealth of programs designed for any level of physical capability.
Choice is always on the menu here.
Our skilled chefs are passionate about creating dishes that are both healthy and delicious. Ever-changing menus ensure there's always something new to try.
Treat yourself to some well-deserved self-care.
Spoil yourself with a day of luxurious treatments at our on-site salon. Get a new haircut and color or sit back and relax with a manicure and pedicure. Remember: Part of feeling great is looking great too.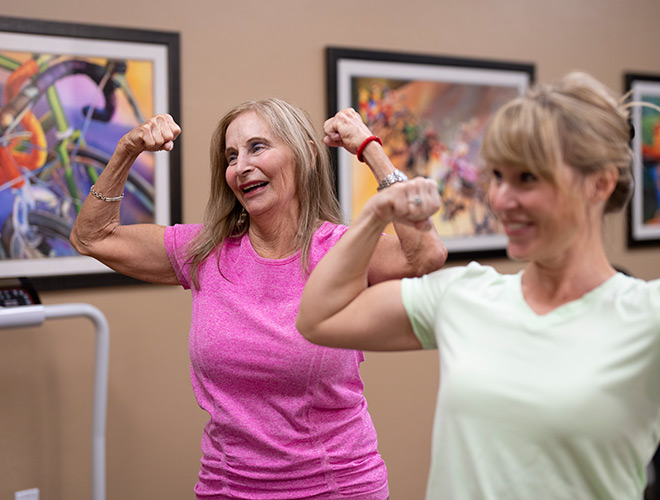 360Well®
Don't just live – thrive.
360Well is our holistic approach that incorporates four key circles of wellness: mind, body, spirit, and community.
Learn More About 360Well