Resident Rosaria "Rose" Mastronardi is Enjoying the Good Life at The Fountains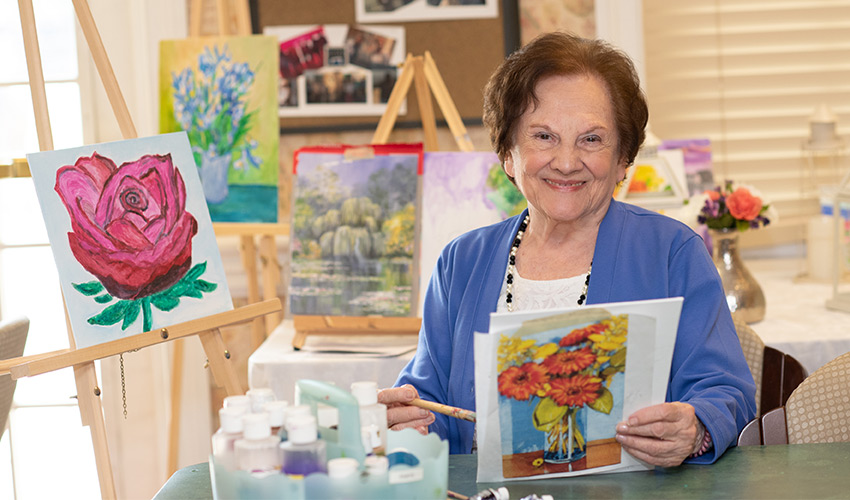 FROM OVERWHELMED TO OVERJOYED
Say goodbye to your worries and hello to happiness when you choose carefree retirement living. "I found myself with this tremendous house, it had four bedrooms and was quite expensive. It became a burden and a great responsibility. So eventually, after speaking with my family we decided that we should find a safe place for me that I would like and enjoy very much." – Rosaria Mastronardi, resident of The Fountains at RiverVue
MEET ROSARIA "ROSE" MASTRONARDI, NATIVE NEW YORKER, RETIRED EDUCATOR AND FULL-TIME FOUNTAINS RESIDENT ENJOYING THE GOOD LIFE.
You can learn a lot from someone who has been in your shoes. Their honest insight can help you navigate your way to the place that's right for you, regardless of which community you choose.
(All quotes contained in this post are excerpts from an interview conducted with Rosaria Mastronardi on Tuesday, May 8th, 2018. To read the full, unedited transcript, please click here.)
Born and raised in Queens, New York, Rose has been fulfilling life of academia, adventure and family. Graduating from college with two degrees before continuing on to teach elementary education for 32 years in North Babylon, she traveled the world and eventually started a family with the love of her life. Their romance started when they met in Italy, but they eventually settled back into her home state of New York and raised their daughter in Eastchester. After retiring from teaching, Rose returned to enjoy traveling the world including the U.S., Canada and Europe. With the passing of her husband, Rose and her family knew she would flourish in a lively community with plenty of opportunity for friendships, discovering new passions and reviving old interests. She now calls The Fountains home. Knowing a helping hand is always nearby, worries and "what ifs" no longer interfere with pleasures of life.
EVERYTHING YOU NEED AND NOTHING YOU DON'T
At first, like many, logistics of selling the house made Rose hesitant to move but she soon realized holding onto the past wouldn't serve her best future. Rose wanted more out of life and sought to enjoy her days rather than keeping up on maintaining a home all by herself. She wasn't going to settle for mediocre if she didn't have to. "Well, I think you have to make an effort too, you know. You just can't sit around. I think you have to get up and move. I did move in here and I'm very happy. I really don't know what more to say to praise the place." – Rosaria Mastronardi
PLENTY TO DO
Without the stress of homeownership or realities of living alone, Rose now fills her time with things that bring a smile to her face. She exercises daily, plays the piano and discovers new card games with friends. Rose can also continue her artistic passions of drawing and painting, which she is excited to submit as a potential feature in the Expressions Calendar 2019 hosted by Watermark Retirement Communities®. Meals are flexible and just to her liking and the best part is every choice she makes comes worry free. "I participate in as many activities as I can. There is just so much to take interest in, whatever I'd like to do I can enjoy doing. I'm very happy and love everything that goes on here." – Rosaria Mastronardi
THERE'S NO PEACE LIKE HOME
Having traveled extensively, Rose had the pleasure of experiencing homes from various walks of life. But when it came to her own, she knew that security and happiness were top priority for living well, regardless where that may be. Rather than staying alone in a house that she called home for more than 15 years, Rose took control of her situation and made the move to a more stable, fun-loving environment. "My son-in-law had done some research and discovered that there was a place nearby in Tuckahoe. The whole place really struck me as so nice I just couldn't stop thinking about it." – Rosaria Mastronardi
DON'T JUST TAKE OUR WORD FOR IT
Meet Rosaria over a drink in the dining room or cappuccino on our terrace. Just call
1-914-574-2393
to set up a time. Bring your questions and get honest answers straight from the source.