A nature lover's paradise
Unbeatable views are just the beginning.
The largest and only developed land in Florida's Ten Thousand Islands is bursting with blooms, birds, and beaches. If you're looking to be inspired by your surroundings, this is the place to be. Marco Island is known for its unspoiled parks, incredible seafood, and friendly, small-town charm.
Just a short distance from Naples and the Florida Everglades, Marco Island offers a comfortable, serene atmosphere in a gorgeous tropical climate. You'll love the local fare, vibrant festivals, and incredible white-sand beaches. The Watermark at Marco Island is your home for extraordinary life experiences waiting for you right outside your door.
A Beautiful Life of New Discoveries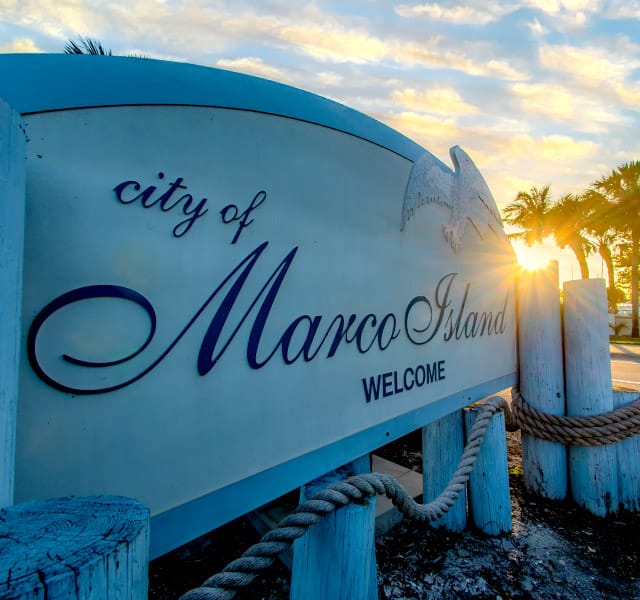 A Brief History of Marco Island, Florida.
The Calusa Indians were skilled woodworkers and the original inhabitants of Marco Island. Evidence suggests they settled there over 4,000 years ago. Archaeological excavations uncovered a remarkable small wooden panther-like figure they called Key Marco Cat. If you want to see the figure in person, you'll need to take a trip to the Smithsonian museums now.
Up until the Civil War, the area remained nearly uninhabited. Later settlers on the island hunted, fished, and sent surplus crops to Key West. The beautiful sand beaches sparked an interest in tourism, especially after a bridge connected Marco Island to the mainland in 1938. Today, Marco Island is a popular tourism destination for travelers looking to immerse themselves in nature, recharge, and rejuvenate.
More History