bold senior living at a charming pace
A warm and historic place to call home.
A slower pace to fast-track your new senior living experience. The Watermark at Bellingham in West Chester, Pennsylvania offers a wondrous 15 acres of serenity, free of the hustle-bustle of the modern world. Here, we embrace a more relaxed life, filled with smiling faces and natural beauty.
And yet, for all its bucolic charms, West Chester is a quick drive to Wilmington and Philadelphia's Main Line. You can enjoy a relaxing morning walk on our country paths, followed by an afternoon of culture at the Philadelphia Museum of Art and evening at the theater. Or spend the day viewing Winterthur's stunning collection of American decorative arts, followed by exploring their naturalistic gardens. At The Watermark at Bellingham you'll experience natural beauty, friendly people, urban adventures close-by, and the good life. We can't wait to see you.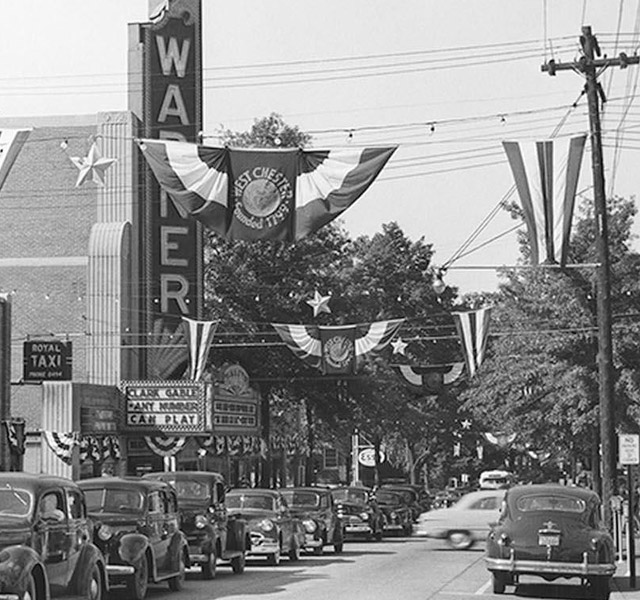 A Brief History of West Chester
Nestled in the heart of the Brandywine Valley just 30 minutes from Wilmington and 45 minutes from Center City Philadelphia, downtown West Chester, Pennsylvania reflects the small-town charm and cosmopolitan tastes that prompted The Philadelphia Inquirer to call West Chester " . . . one of the world's most perfect small towns."
West Chester became the seat of county government in 1786, and in the 18th century the town was a center for clock making. The Watermark at Bellingham's own community farmhouse was originally built in 1720 and its stone house was home to Benjamin Garrett, a noted watchmaker throughout the Revolutionary War. Our community is the exact site of the former Grist Mill, where flour was shipped to George Washington's troops at Valley Forge.
Today, the stone house holds our library, quaint meeting rooms and a full-service kitchen for private parties. The wood beams and stone from the barn have been graciously repurposed into a restaurant-style dining room. We love how our residents enjoy the charm of yesteryear amid this historical gem.
More History