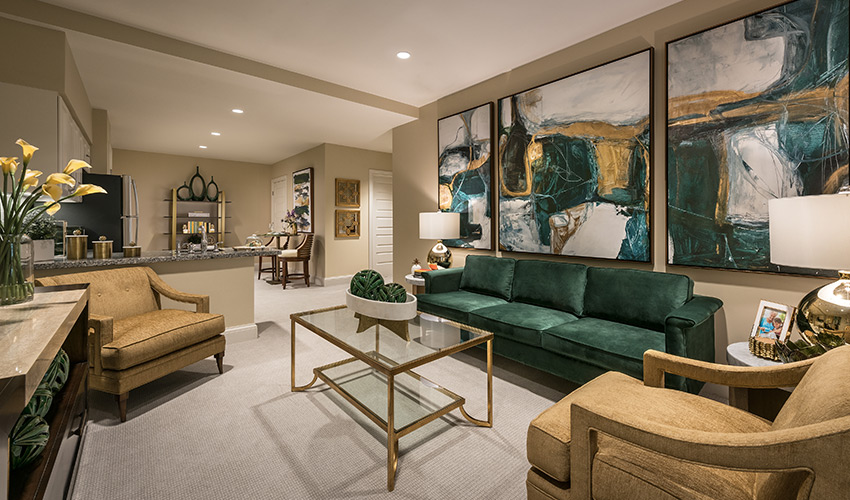 Lu-Ann Thoma-Holec creates beautiful, calming interiors that make residents feel right at home.
Award-winning designer LuAnn Thoma-Holecis so passionate about creating beautiful interior spaces for senior living communities that she launched an entire company devoted to the sector. Since founding Thoma-Holec Design, she has brought her talent to a number of Watermark communities across the U.S, including
The Preston
in Dallas, Texas,
The Providence
in Fairfax, Virginia,
The Seneca
in Rockville, Maryland, and
The Landing
in Alexandria, Virginia.
LuAnn often begins conceptualizing as soon as the architect begins sketching. She weighs in on everything from the importance of accessibility and ease of movement throughout the space to designing the lighting, fireplaces, millwork, ceilings, flooring, furniture, and art. She collaborates with art consultants to identify specific selections that will enhance the environment, from sculpture in the library to mosaics behind the lobby desk. With a master's degree in gerontology, it's not surprising that LuAnn feels a special affinity for creating comfortable, elegant living spaces for seniors. She and the design team at Thoma-Holec Design understand that the beauty is in the details. Their signature style incorporates upscale finishes and textural touches, such as rich, calming neutral palettes and the use of art and sculpture in an almost gallery-like presentation. But successful interior design depends on more than just a strong visual presentation. The other senses, like touch, are equally as important. "We always look for cleanable fabrics that are soft to the touch and feel good when people put their hands on them," she says. Due to her extensive experience with seniors,LuAnn also has a special understanding of what will be pleasing to residents in the Memory Care communities.
She starts by sourcing historic photos from local historical societies, libraries, and the chamber of commerce in the area and then blows them up to scale. "Depending upon the time in a person's evolution, most of the residents are able to relate to historical photos," she says. "Hopefully, this is something they remember and can discuss. If not, it is something for them to just look at and enjoy." Part of her success depends on an intuitive understanding of what's really important. "First impression is everything," says LuAnn. "You have to make a person feel at home. Because within the first 10 to 20 seconds of entering a space, they've made a decision about whether they like it or not." And most of the time, not surprisingly, they love it.