Aquatic Therapy and Exercise at The Watermark at East Hill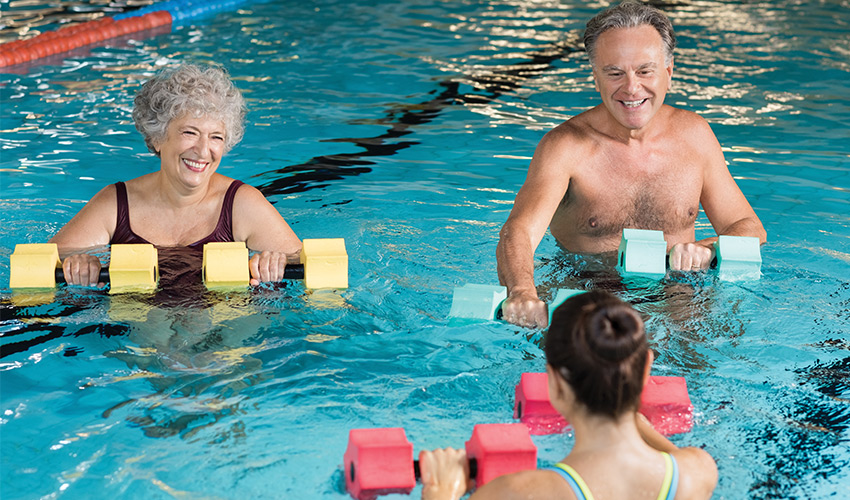 According to the
Centers for Disease Control and Preventio
n, swimming is the fourth most popular sports activity in the United States and a good way to get regular aerobic physical activity. Just two and a half hours per week of aerobic physical activity, such as swimming, can decrease the risk of chronic illnesses. At
The Watermark at East Hill
, we believe in the benefits of aquatic based exercise and are able to support our residents in our indoor swimming pool. Whether it is swimming laps, "water walking" or taking one of our Aqua Motion water fitness classes, our residents enjoy all of these benefits…
Water-based Exercise and Chronic Illness
Water-based exercise can help people with chronic diseases. For people with arthritis, it improves use of affected joints without worsening symptoms. People with rheumatoid arthritis have more health improvements after participating in hydrotherapy than with other activities. Water-based exercise also improves the use of affected joints and decreases pain from osteoarthritis.
Water-based Exercise and Mental Health
Water-based exercise improves mental health. Swimming can improve mood in both men and women. For people with fibromyalgia, it can decrease anxiety and exercise therapy in warm water can decrease depression and improve mood. Water-based exercise can improve the health of mothers and their unborn children and has a positive effect on the mothers' mental health. Parents of children with developmental disabilities find that recreational activities, such as swimming, improve family connections.
Water-based Exercise and Older Adults
Water-based exercise can benefit older adults by improving the quality of life and decreasing disability. It also improves or maintains the bone health of post-menopausal women.
A Good Choice
Exercising in water offers many physical and mental health benefits and is a good choice for people who want to be more active. When in the water, remember to protect yourself and others from illness and injury by practicing healthy and safe swimming behaviors. All residents can enjoy our amenities and services like our aquatic therapy at our pool from our
Independent Living
community to
Assisted Living
and
Rehabilitation and Skilled Nursing
residents. Won't you join us?