Resident Annette Staatz is Enjoying Friend-Filled, Carefree Living at Parkview in Frisco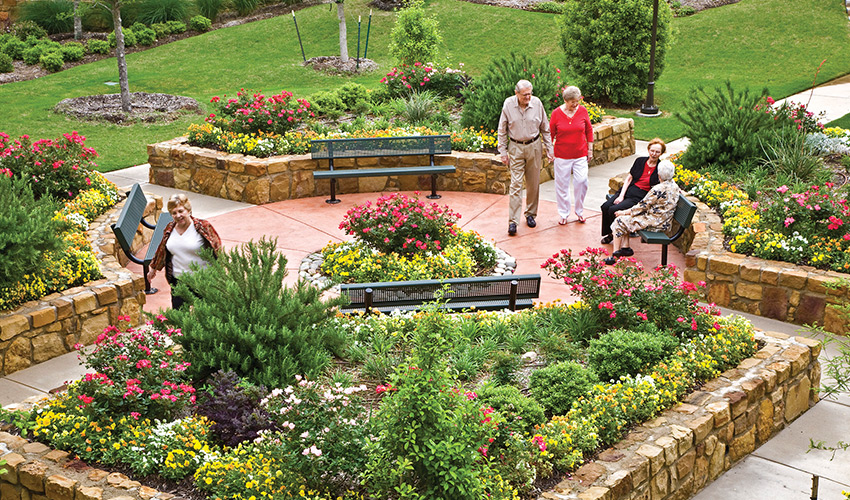 TURN THE PAGE
Write Your Best Next Chapter With Us "I thought, you know, if this is going to be my life from now on, I'm going to make it a darn good one." – Annette Staatz, resident of Parkview in Frisco
MEET ANNETTE STAATZ, A FARM GIRL AT HEART WHO FINDS JOY IN VIEWS OF TALL TREES AND ALL OF NATURE'S BOUNTIES.
You can learn a lot from someone who has been in your shoes. Their honest insight can help you navigate your way to the place that's right for you, regardless of which community you choose.
(All quotes contained in this post are excerpts from an interview conducted with Annette Staatz on Monday, November 6th, 2017. To read the full, unedited transcript, please click here.)
A native of Williston, North Dakota, Annette met her future husband, a dairy farmer, at Pacific Lutheran University in Tacoma, Washington. After raising Ayrshire dairy cattle and champion Appaloosas there, they raised sheep in Oregon and eventually made their way to Texas. In retirement, Annette wanted to downsize but couldn't convince her husband to give up his garden and pool. When his life was cut short by sudden illness, Annette was alone in a fog of grief until she discovered Parkview in Frisco and decided to turn the page.
Now she's writing her best next chapter in an extraordinary community of friends. In addition to stunning sunset views, her Parkview home overlooks a greenbelt. Out her window, Annette can see tall trees that turn red, yellow and orange in the fall and, after it rains, she watches as deer drink from the stream.
YOU'VE EARNED YOUR RETIREMENT. NOW ENJOY IT.
You can't choose what happens to you but you can choose your attitude. Annette Staatz experienced four years of one health problem after another. Then her husband passed away unexpectedly. Instead of wallowing in grief and self pity, with encouragement from her son and doctor, Annette decided to move on. She traded the heavy burdens of homeownership for friend-filled, carefree living. A comparison of "night to day" is how she describes her life before and after moving to Parkview in Frisco last year. It's never too early to start planning your own best future.
Join us for lunch and discover how the right retirement community can make a night to day difference in your life, too. "My doctor said, 'You have earned your retirement now Annette, enjoy it.' I said, 'You know, that's right.'" – Annette Staatz
TAKE THE BULL BY THE HORNS
The day after his father's funeral service, Annette's son visiting from Rhode Island took the bull by the horns. He told her, "Mom, be ready by noon, we're going to look at retirement communities." Parkview was their first stop. It's located just five minutes north of her church and she'd seen Parkview's van many times but didn't know anything about it. Prepared to hate it, she was instead pleasantly surprised. Eight months later, it was home. "I was surprisingly pleased with what I saw. The front desk people were friendly. There were ladies sitting around the fireplace talking and chatting and they looked up at me and said, 'Hello, how are you?'" – Annette Staatz
THE DECISION IS YOURS
Invited that first day to stay for lunch, Annette and her son were further impressed with the quality of the food and linen-dressed tables. They went on to compare Parkview to other places. One was very fancy looking, but there were no people in sight. Another seemed okay until a resident there told Annette, "Don't come here." Several unannounced return trips to Parkview confirmed Annette's hunch. People loved living there! "I told my son, 'I've decided I want to go to Parkview in Frisco.' And he said, 'Ok, it's your choice.'" – Annette Staatz
DON'T JUST TAKE OUR WORD FOR IT
Meet Annette in person over a cup of gourmet coffee or a drink in our dining room. Just call
1-972-439-1326
to set up a time. Bring your questions and get honest answers straight from the source.