Resident Dennis Guill is Enjoying Carefree Living, Engaging Programs and Friendly Neighbors at Parkview in Frisco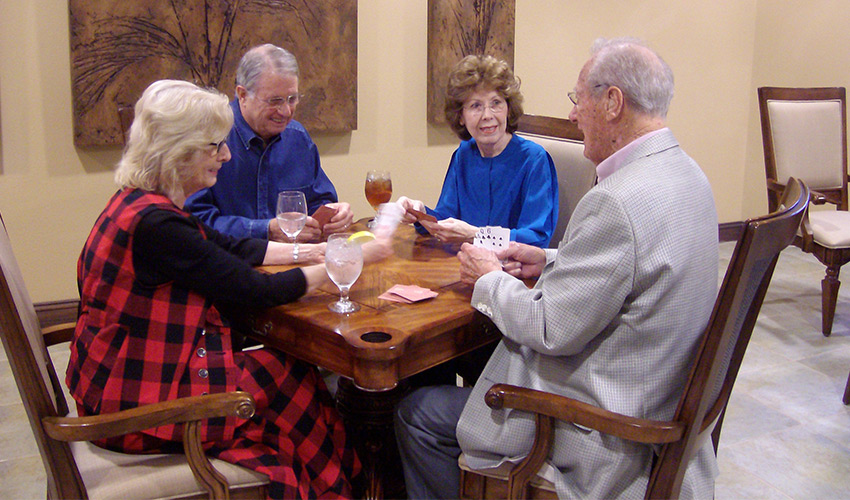 YOU COULD LIVE IN A HOUSE
Or you could join a community filled with friends, learning and fun. Which will it be? "In my case specifically, let me just say that when I recover from this, I could go and live in a house but I have no intentions of it. I don't have to worry about doing anything except walking out and locking the door." – Dennis Guill, resident of Parkview in Frisco.
MEET DENNIS GUILL, A RETIRED SMU PROFESSOR, SECONDARY SCHOOL PRINCIPAL, SWIM REFEREE AND CURRENT CHAPLAIN WHO PARKED HIMSELF PERMANENTLY AT PARKVIEW.
You can learn a lot from someone who has been in your shoes. Their honest insight can help you navigate your way to the place that's right for you, regardless of which community you choose.
(All quotes contained in this post are excerpts from an interview conducted with Dennis Guill on Monday, May 7th, 2018. Full transcript available upon request.)
Born in San Antonio, Dennis has lived most of his adult life in the Dallas area. He was a professor of earth sciences at SMU for 12 years and led students throughout Latin America from Mexico south during summer travel excursions. He later became a principal of a large secondary school in a Dallas suburb, taking early retirement in 1992 and traveling extensively, especially to national parks. Today, Dennis enjoys working part time as a chaplain for an Episcopal Church not far from Parkview. He loves sharing his passion for geology with neighbors and looks forward to watching weekend movies screened at Parkview's own theater, with free popcorn and beverages to boot.
EXPLORE YOUR OPTIONS NOW
Planning your own best future may be the last thing on your mind, but let's face it, it's coming whether you're ready or not. The fact is, it's never too early to begin exploring your retirement living options. Attend our next Discovery Luncheon and get a head start. "What brought me to the Parkview community here was a fairly sudden decision. I think as people get older they think about, 'What am I going to do when I can no longer live in my home,' or whatever, it's in the back of their mind but they don't give it a lot of active consideration and I had an accident and just shattered my right hip and had to make a fairly rapid decision as I was not going to be able to remain in the house where I was living." – Dennis Guill
SOFT LANDING
When Dennis broke a hip, he made a soft landing at Parkview in Frisco. Fully recovered now, he could return to his former lifestyle but why would he? After experiencing the carefree, convenient life within a friendly community setting, he'd have it no other way. Although he discovered his best future quite by accident, he advises others to discover theirs on purpose. There's no better way to stay connected with everything that makes life worthwhile. "I think the variety is very interesting and wonderful. A resident here took the weekly schedule of events and counted up the opportunities and on a weekly repeating basis, we have 81 activities going on, on campus." – Dennis Guill
FORGET THE GLITZ AND GLITTER
In his work as a chaplain, Dennis has seen many of the newer retirement communities popping up in the Dallas area and he sees their ads, too, full of glitz and glitter. None of that impresses him. "What should be at the top of the list is what I would call 'community' and that means the staff and the other people that live here. The staff at Parkview, I cannot say enough positive about these people." – Dennis Guill
DON'T JUST TAKE OUR WORD FOR IT
Meet Dennis in person over a cup of gourmet coffee or a drink in our dining room. Just call
1-972-439-1326
to set up a time. Bring your questions and get honest answers straight from the source.