Residents David and Hugette Baad are Enjoying Worry-Free Living and New Friends at Parkview in Frisco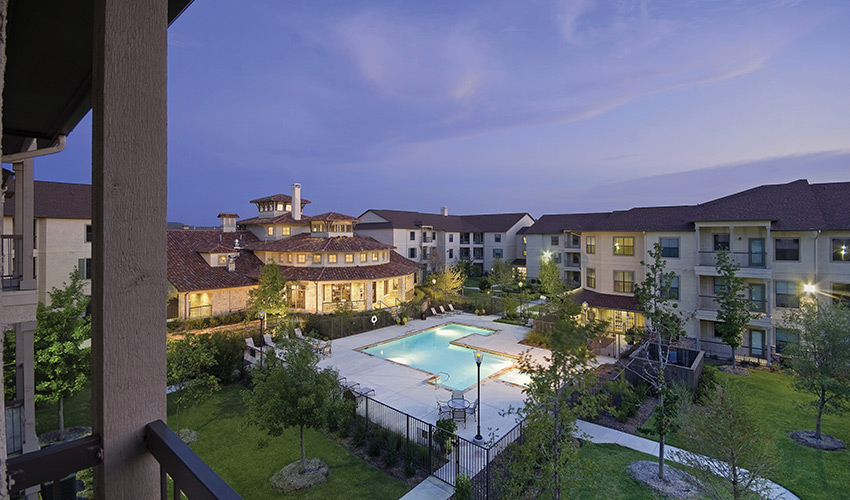 LEAVE YOUR WORRIES BEHIND
Moving to the right retirement community at the right time is an adventure. Learn how worry-free living helps people thrive. "It is a comfortable life and as everybody knows, no more home maintenance, no more cooking." – David Baad, resident of Parkview in Frisco.
MEET DAVID AND HUGETTE BAAD WHO TRADED TUCSON FOR TEXAS TO BEGIN THEIR NEWEST ADVENTURE.
You can learn a lot from someone who has been in your shoes. Their honest insight can help you navigate your way to the place that's right for you, regardless of which community you choose.
(All quotes contained in this post are excerpts from an interview conducted with with David and Hugette Baad on Saturday, February 9, 2019. We apologize for the inconvenience, the transcript is unavailable for posting.)
Hugette grew up in war torn France, escaping with her life before meeting David, her husband of 60 years, while working as a language interpreter overseas. Having graduated from University of Michigan, where he was editor of the college newspaper, David was offered a Rhodes Scholarship and simultaneously took a job with the Central Intelligence Agency. Their careers took them all over Europe and stateside where they raised three children. Retirement brought them first to Florida, then to Arizona and now Frisco, Texas. They enjoy having the best of both worlds, being near family while living worry-free with great new friends.
PLAN AHEAD
People often wonder when will be the right time to rid themselves of home maintenance hassles and begin enjoying life worry-free in a congenial atmosphere. For those who've already made the switch, the right time is yesterday. Don't leave your future to chance. It's never too early to begin exploring all the wonderful options available today for living your best life moving forward. Have you made a plan for your best future? Let us save you some time. Join us for our next Discovery Luncheon and get the facts you need to begin your exciting new adventure in the place that's right for you. "A couple of years ago probably, maybe even a little longer than that we decided that at some point we probably would want to move into an independent living community which would eventually provide advanced care if that became necessary." – David Baad
BOLD MOVE
It takes courage to uproot yourself at any age but David and Hugette are no strangers to adventure. They had planned to move to a Watermark community in Tucson until their son suggested they move to Texas. They weighed their options carefully and moved to Parkview in Frisco with no regrets. "It's difficult to find a person who isn't nice. It's very congenial, the atmosphere. And you know I don't know if Hugette felt this way but I kind of dreaded the idea of having to have meals in a lunch room every day and what if everybody was boring and whatever. But in fact, it is a highlight of the day going down to lunch." – David Baad
LIFE'S AN ADVENTURE
Take it from David and Hugette, when you approach each chapter of life as a new adventure, you're bound to enjoy the ride. Any trepidation they had quickly gave way to enjoyable new experiences. They're free to live as they wish without the responsibilities of cooking, cleaning, property taxes, bills and home maintenance hassles. And they have access to everything they could want or need now and in the future. "And it has been very positive I think for us psychologically to just basically have a new experience, a new adventure." – David Baad
DON'T JUST TAKE OUR WORD FOR IT
Meet David and Hugette in person over a cup of gourmet coffee or a drink in our dining room. Just call
1-972-439-1326
to set up a time. Bring your questions and get honest answers straight from the source.