Senior Art Showcase Featured on KVOA TV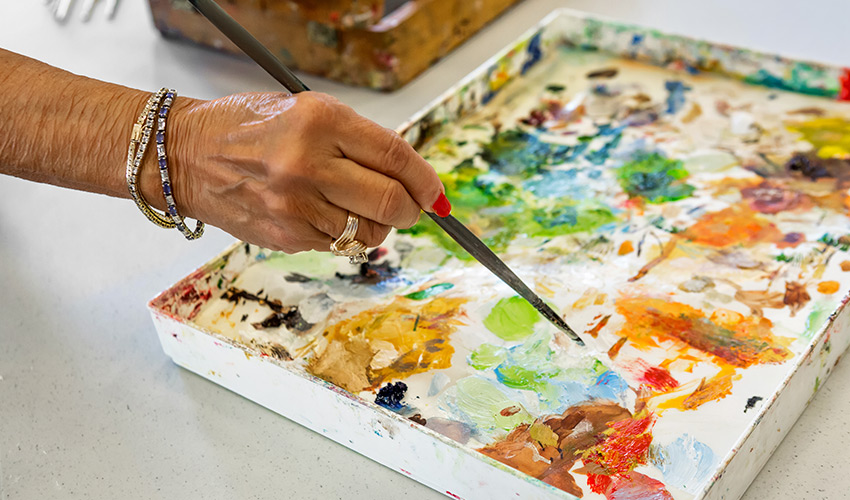 There's an undeniable magic that flows through the community at The Fountains at La Cholla. It's a sense of vitality, talent, and inspiration that comes alive in the most beautiful forms — one of which is the vibrant artwork created by our residents. Our community celebrates and nurtures the creative spirit through various expression classes and personal endeavors.
Our Senior Art Showcase has recently made headlines, and we couldn't be prouder. It's always heartening to see the fantastic talent of our residents being recognized, and it's even more gratifying to share that talent with the broader Tucson area. The news feature by KVOA TV highlighted our residents' exceptional pieces, ranging from mesmerizing watercolors and intricate woven clothing to unique wood carvings.
The art show truly is a testament to our residents' depth and diversity of creativity. Each piece tells a story, and each color and texture encapsulates an emotion. The showcase is more than just a display of art — it's an insight into our residents' lives, experiences, and incredible artistic talents.
At The Fountains at La Cholla, we believe in nurturing creativity, celebrating individuality, and embracing the richness of life's experiences. Our Senior Art Showcase is just one example of how we highlight this philosophy.
Contact us online or call us at 520-797-2001 to plan a private tour. Discover the inspiration, meet the artists, and experience firsthand the vibrant community that is The Fountains at La Cholla. We look forward to welcoming you and sharing the artistic talents that make our community truly special.