WELCOME TO THE BAY AREA
Discover vibrant San Jose, where innovation meets rich history.
With its stunning natural beauty, you'll be enchanted by the rolling hills and the vibrant hues of scenic landscapes. San Jose's year-round pleasant weather and dynamic lifestyle perfectly complement its diverse, innovative, and welcoming community. Undoubtedly, San Jose offers a captivating, magnetic charm that encourages exploration and engagement.
Located in the southern Bay Area, San Jose is surrounded by other exciting cities such as Santa Clara, Sunnyvale, and Los Gatos. The heart of Silicon Valley is not just a technological hub but also a cultural center filled with exciting eateries, boutiques, and the arts. With convenient proximity to San Francisco and Pacific Coast beaches, San Jose offers the best of California — world-class dining, premium shopping, famous landmarks, and unique attractions are all at your doorstep.
For outdoor enthusiasts, the city is a paradise. Over 50 miles of trails within the city limits offer unparalleled hiking, biking, and jogging opportunities. Almaden Quicksilver County Park, a testament to the city's mining history, provides scenic views, historical sites, and diverse plant life. Peruse the weekly farmers' markets where you can find fresh, locally sourced produce, meats, and crafts. To escape city life, venture to the beautiful coastline and redwood forests or visit one of San Jose's famous attractions.
In San Jose, the pace of city life is perfectly balanced with the tranquility of natural beauty. Discover this remarkable city, where life is a thrilling journey of exploration and connection.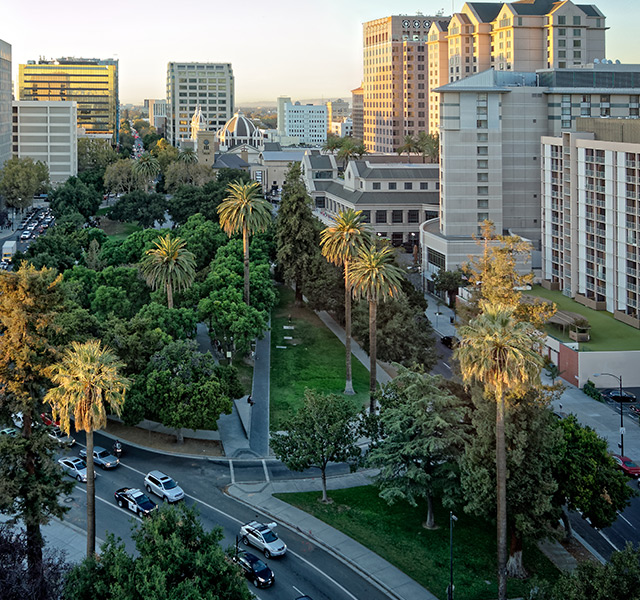 History of San Jose
San Jose is considered the cultural hub of Silicon Valley. Its roots date back to 1777 as California's first civil settlement. Evolving from an agricultural community, San Jose transformed into a sprawling metropolis recognized for its technological advancements and economic prowess. The city's narrative is beautifully echoed in areas like Almaden Valley.
Almaden Valley earned its name after the New Almaden Quicksilver Mines, which once powered the region's economy. Today, Almaden Valley is an emblem of San Jose's tranquility. It features rolling hills, vibrant parks, and distinguished schools. This dynamic juxtaposition of the old and the new makes San Jose a place of endless discovery.
More History
Contact Us
We're happy you're here.
Questions? Interested in a tour? Want to attend one of our events?
We're excited to meet you.
Fill in the form, or call us at 669-258-4567 to learn more.