HELPING YOU HEAL AND RECOVER
You're in great hands (and hearts).
Rehabilitation is often a critical part of the healing process. Whether you're regaining motor function, or rehabilitating your body from a clinical event, our top-notch nurses are at your side, every step of the way.
Rehabilitation and healing at The Watermark at 3030 Park accommodate and service your unique rehab needs by pairing you with a highly trained, certified nurse. Service is not limited to current members.
This extraordinary, Medicare-certified community service includes physical, occupational, and speech therapies. We've been helping patients restore function, improve mobility, relieve pain, and prevent - or limit - physical disabilities from injuries or disease for decades.
Your care team will get to know you, follow your care plan, and see to your every need during your recovery.
They stay connected with your family to keep them up to date with your rehabilitation progress. They'll even follow up with you after you leave to ensure your recovery continues. Perhaps the best of all, is that while you are in our care, you won't find call bells, intercoms, fluorescent lights, linoleum tile, nurse's stations or associates in scrubs pushing medication carts. Let's put it this way – if you wouldn't want it in your home, you won't find it here.
While we work with you and your physician on your healing regime, please enjoy our amenities, from delicious cuisine to a full calendar of mind and body fitness classes. Explore the many relaxing therapeutic treatments at our spa, take a dip in our heated, in-door pool, and turn to an attentive support staff for any of your needs or questions.
Clinical Capabilities
Physical, occupational, and speech therapy
COPD management
Cardiac rehab
Pain management
Edema
Stroke or CVA
Fractures
Hip and knee replacements
Joint replacements
Decreased function or muscular weakness
Problems with balance and coordination
Self-care
Continence management
Home management
Visual impairments
Aphasia
Dysarthria
Dysphagia and more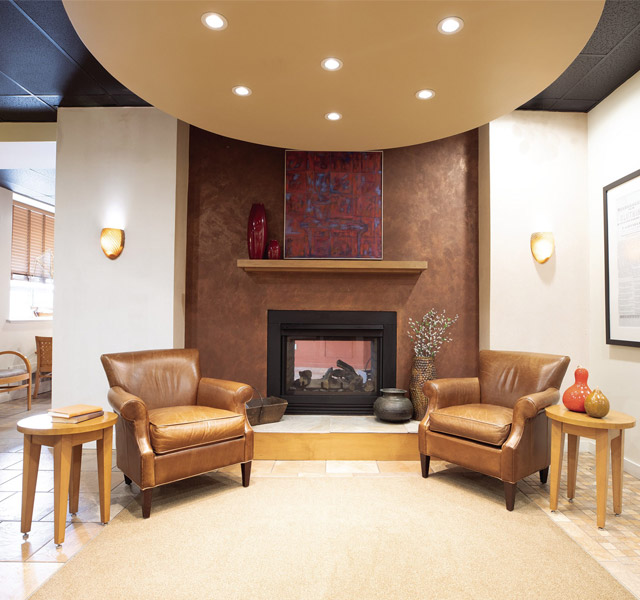 NATURAL BEAUTY, ELEGANT LIVING
Senior living, redefined.
You'll love The Watermark at 3030 Park's relaxed and elegant environment, resort-style amenities, and its exceptional landscaping on 14 acres of parkland. Warm people, breathtaking natural surroundings, and phenomenal wellness facilities set the tone. This is senior living at its apex; an exceptional setting, for seniors who want an exceptional, quieter lifestyle with high-end amenities.
Download Brochure