The Hacienda at the Canyon® Celebrates Member Artists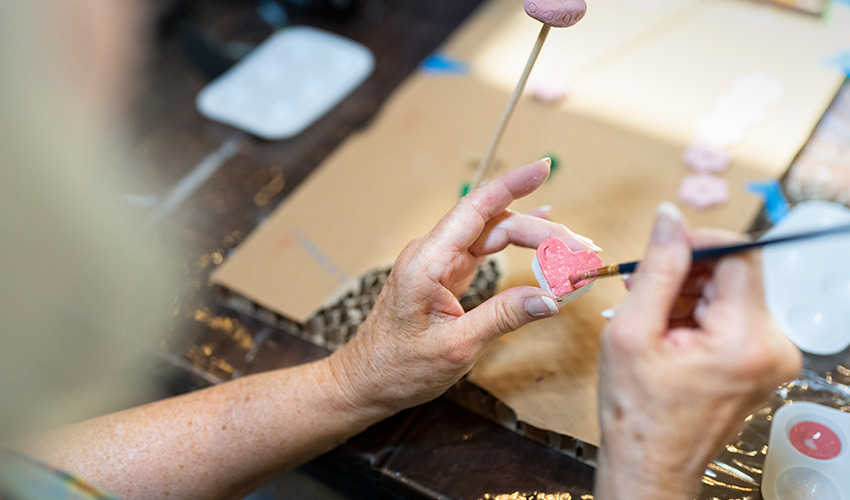 Through paper, paint, clay, and fiber, the talented members of The Hacienda at the Canyon share their artistic vision of the world, answering the call to give life new meaning and perspective.

Some are discovering the creative arts for the first time. Some are rekindling their joy of creation. And some have spent their lives honing their artistry and skill.

For them all, it is a calling and passion for expressively communicating what words alone cannot—and for more than two decades, seniors from Watermark communities across the country have brought inspiration to every day of the year through the Expressions calendar. Many of these incredibly talented individuals call The Hacienda of the Canyon home, with two being featured in the 2023 edition of the calendar.

Award-winning painter and Hacienda member Fran McNeely has been actively painting since she retired in 2008. She's studied with numerous local, regional, and nationally known artists and has been juried in more than 100 shows. Four of her pieces are featured in the Tucson Medical Center's Healing Art's Collection and you may also find her work in the 2023 Expressions calendar.

Also in the 2023 Expressions calendar is a photographic work by Hacienda member Peter Velonis, who has spent his entire life perfecting his craft. Peter began in photography with conventional film, but after developing an allergy to dark room chemicals, he transitioned to digital processing.

"I like to think of a photograph as a slice of time that has been captured forever," Peter says. A slice of time, a sliver of experience, an expression of creativity—and something that can inspire us all.