Watermark University Introduces Innovative New Programming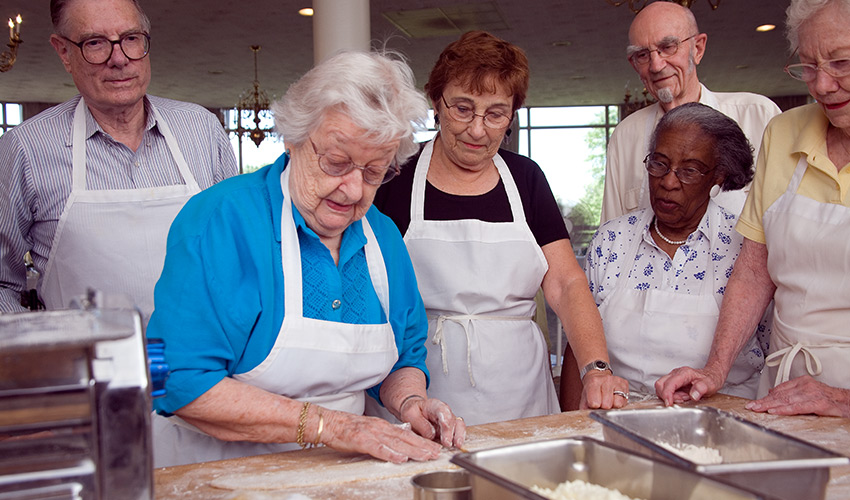 Lifelong learning enhances virtually every aspect of life and supports healthy aging—keeping our minds sharp and active. It helps us to live a life full of meaning. Providing worthwhile opportunities to learn, teach, and grow, our award-winning Watermark University recently debuted a host of new courses that are as diverse as the faculty teaching them.

From movie musicals and cocktail making to mindfulness and sign language, our new programming covers history, the arts, culture, cuisine, wellness, technology, and more. No matter what your passion, you're sure to find a subject that will pique your interest. Taught by residents, family members, and associates, the classes draw on their areas of expertise, covering a broad range of interesting and engaging topics. Brian Rose, a professor emeritus at Fordham University, shares his love of film in the course, From The Jazz Singer to A Star Is Born: A History of the Movie Musical. The author of several books on television history and cultural programming, he conducted numerous interviews with leading directors, actors, and writers in the industry. If you're a fan of the genre, you won't want to miss this in-depth exploration of musicals and how they've evolved over time.

For the historians and politically minded among us, The U.S. Presidents and Election History, Part One, provides a fascinating look at the fiercely fought elections that have put us on a course to the battles we're seeing played out in our 24-hour news cycle. The course is taught by Douglas Brin, an artist, writer, and diarist. He also served as a feature writer for the New York Daily News. Culinary classes are another highlight of our new programming, from baking mouthwatering holiday treats to learning the tricks of the trade from our Executive Chef Kfir Kertes.

You can keep the summer vibes alive with Tropical Drinks at the W with Dining Services Manager Lloyd Lewis. He'll demonstrate how to make a pina colada and a strawberry daquiri. Or check out The History of Whiskey and Whiskey Tasting with Vince Stewart, who has worked in the food and beverage industry for more than 30 years. In Mediterranean Home Cooking, Part Deux, Kertes reveals how to make some delicious flatbreads and healthy salads featured in our Mediterranean restaurant Gustoso.

Always had a passion for the arts? Now is your chance to take part in our Improvisation Station, taught by Dahlia Lopez Ramsay, who graduated with her master's in Applied Theater from CUNY and has long studied and taught the art of improv. If arts and crafts are more your style, you won't want to miss Fabulous Jewelry and Crafting, which shares the basics of jewelry making by teaching artist Paulette Thomas-Martin, using materials such as beads, wire, glass, metal, and clay.

Whether you're interested in exploring a new passion, satisfying your curiosity, or simply learning more, Watermark University can help you do all three with its innovative and engaging classes.