Explore the world right outside your door
Get ready for sunny days, warm smiles, and breathtaking desertscapes.
When you live here, you've arrived. Here's your daily neighborhood forecast at The Hacienda at the River: bright days and an active lifestyle. Tucson is yours to explore, and our community is just minutes from the banks of the Rillito River and Tucson's cherished Riverwalk.
Discover the hidden majesty of Tucson. Visit the Mini Time Machine Museum of miniatures, the Mission Garden Museum, the Tucson Botanical Gardens, Biosphere 2, or Saguaro National Park. Not a garden or museum aficionado? No problem. Embark on a taco tour of the local Mexican restaurants, visit one of the country's largest telescopes at the Mount Lemmon SkyCenter, or take a trip to the many casinos, restaurants, rodeos, galleries, theaters, or shopping venues.
With so much to do and see, you'll soon discover why Tucson is a wonderous untapped tapestry of culture, community, and discovery —– and the ideal senior living destination. Join us in the heart of one of the Southwest's most beloved cultural and social hubs, where the smiles and the people are as warm as Tucson's 350-plus days of sunshine.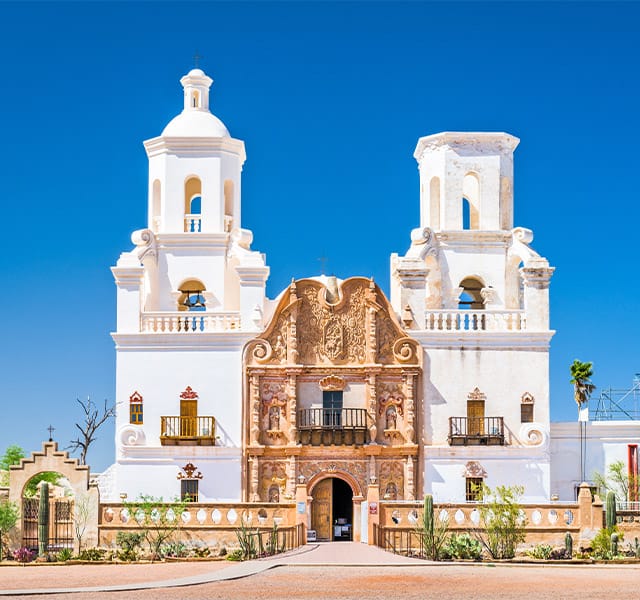 Discover the rich history of Tucson.
Tucson was founded in 1776, making it one of North America's oldest continually inhabited areas. Before Spanish missionaries and explorers arrived in the late 1600s, Hohokam Indians had lived here for at least 4,000 years.
In 1854, Mexico sold all of Arizona south of the Gila River as a part of the Gadsden Purchase. This transaction made Tucson an official part of the United States. The incorporation of Tucson as a city in 1877 made it the oldest city in Arizona. Tucson's roots expanded with the arrival of the Southern Pacific Railroad in 1880.
Today, more than one million residents call Tucson home. There's something majestic about this area, where five mountain ranges create a picturesque, protected valley. You'll also find magnificent saguaros standing tall on the desert floor and aspen and pine growing above them on stark, wind-swept mountain peaks.
More History