Good Food, Good Health: The Hacienda at the River joins with the University of Arizona for Docs in the Kitchen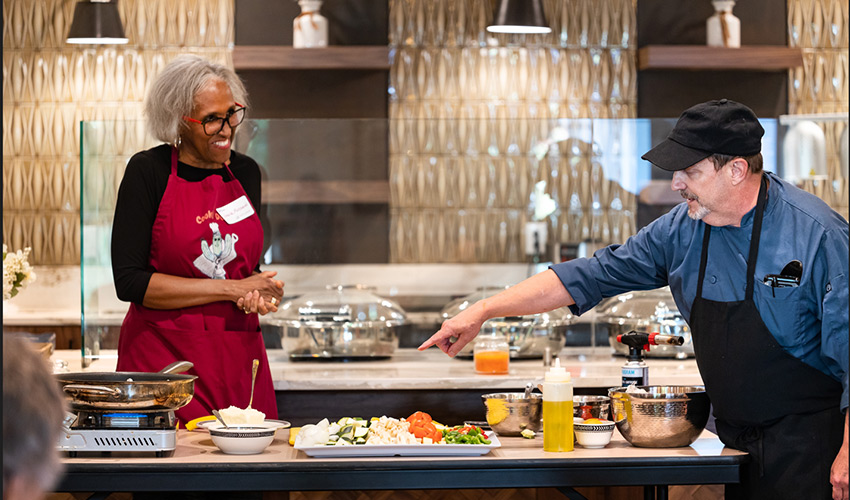 In a groundbreaking new program, The Hacienda at the River has partnered with the University of Arizona to launch Docs in the Kitchen, which brings together physicians and chefs to promote healthy living through delicious, healthy meals, even for those on restricted diets.

Chief of Gastroenterology and Hepatology at the University of Arizona Juanita Merchant, MD, developed the idea and explains that "when we as physicians just hand things out in clinic, I think patients sometimes feel like we don't have any skin in the game. This is to show that we … understand that it's difficult to stick to these diets."

Adding that physicians also struggle with creating meals that are both nutritious and flavorful, Dr. Merchant says, "We need the partnership with someone who understands food chemistry, such as a chef, and that is the whole basis for this being a partnership."

Chef David Sullivan of The Hacienda at the River agrees. "Bringing education into the kitchen and dining room is a great way to make food more nutritious," he says. And as anyone who has had the good fortune of experiencing Chef Sullivan's culinary expertise can confirm, it is possible to have good nutrition and good flavor on the same plate.

The first Docs in the Kitchen event took place on June 10th, providing insight and real-world instruction on food as therapy. Additional events will be scheduled to take place on a quarterly basis.