A Wealth of Well-Being
Wellness comes in many ways, some unexpected.
Maybe it's a workout at our state-of-the-art Vitality Fitness Center or relaxing in the warm California sun while your dog enjoys the dedicated pet area. Perhaps it's a relaxing massage at Indulge Salon and Spa or a leisurely walk in your new neighborhood. Whatever you desire, you'll find our integrative approach to wellness creates a distinctly Los Angeles senior-living experience.
A world of possibilities awaits you.
Wellness is more than staying physically active. Mental stimulation is essential to healthy aging. Through our partnership with UCLA Longevity Center, members of The Watermark at Westwood Village have access to training and cognitive classes designed to help you learn how to live a better and healthier life. You'll also have unlimited access to our on-site programs, classes, experiences, and excursions through Watermark University.
Get fit and stay fit.
You'll find something for every fitness level, including weight-training equipment, cardio machines, and a Pilates Reformer. Join scheduled classes or meet with a personal trainer to work on specific objectives. Wearable fitness trackers measure your progress and help you stay on track.
Feed your mind, body, and spirit.
Eating healthy doesn't mean sacrificing flavor—especially when you're surrounded by incredible fresh ingredients at local farmers markets. Our dining venues offer delectable and nutritious dishes that embody great Southern California living.
Self-care is an integral part of any good wellness journey.
With a full-service salon on-site, prioritizing self-care is easy. At Indulge, treat yourself to a muscle-melting massage or rejuvenating facial in the private treatment room. Then, head to the salon for a cut, color, and a manicure and pedicure. When you look good, you feel good.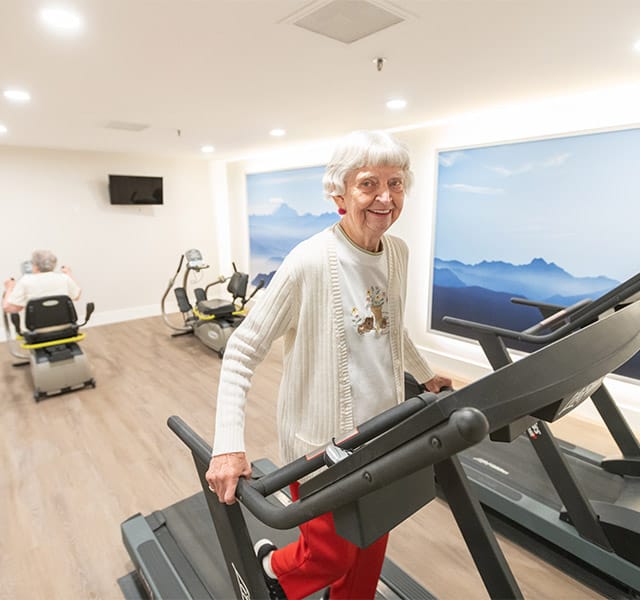 360Well®
Don't just live, but thrive.
360Well is a holistic approach that incorporates four key circles of wellness—mind, body, spirit, and community.
Learn More About 360Well
Contact Us
We're happy you're here.
Questions? Interested in a tour? Want to attend one of our events?
We're excited to meet you.
Fill in the form, or call us at 310-208-4590 to learn more.